Introducing Micah, summer intern for the Licensing Team
by mkesselm Contributions
—

Published on

Aug 05, 2014 02:44 PM
Micah-Shalom Kesselman recently started working at the FSF as one of this summer's licensing interns. In this post, he writes about his interest in free software and what his goals are for his internship.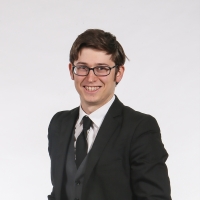 Hello, my name is Micah. I am currently a second-year law student at Suffolk University Law School in Boston. My primary focus has been on the law surrounding copyrights, patents, and trademarks as well as software licensing. At the same time, I am also a returning undergraduate studying Computer Science at University of Massachusetts Boston.
In my life before law school, I was a graduate student at University of Wisconsin—Milwaukee, in my hometown, where I studied Political Science. Prior to that, I completed my BA in Political Science and Philosophy at Purdue University in Indiana. I have always been fascinated by the intersection of technology and society and in law school that interest naturally culminated in a focus on software law and the use of software in the practice of law.
I believe that law and software share the quality of being at their best when developed transparently and collaboratively. This belief drew my attention to software freedom. Exploring the many ways the two fields can support each other has been both rewarding and one I believe to be incredibly important to modern society. I am very interested in how a better understanding of the law and licenses that both developers and users are bound by can foster better software, not only technologically but also socially. On the flip side, I think it is clear that a better understanding of software and its workings has the potential to improve legal reasoning and policy consideration.
During my summer at the FSF, I hope to obtain a better understanding of free software licensing and also a more informed view of the free software movement. As an intern for the Licensing Team, I will have the opportunity to answer licensing questions and assist on FSF projects. My desire is to conclude this summer having not only helped the FSF in its mission of software freedom and helping developers with their questions, but also to have obtained a fuller understanding of the concerns, considerations, and perceptions of software developers and users.
This summer is sure to be a unique and rewarding experience. I am extremely excited to be working with the Licensing Team here at the Free Software Foundation.
More information about the FSF's internship program is at https://www.fsf.org/volunteer/internships.