FSF-funded call for white papers on philosophical and legal questions around Copilot: Submit before Monday, August 23, 2021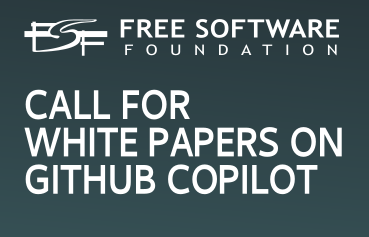 Update: The papers were selected and published on February 24, 2022. They are available at: https://www.fsf.org/news/publication-of-the-fsf-funded-white-papers-on-questions-around-copilot.
Microsoft's GitHub recently announced a new service known as Copilot. This service uses machine learning to help suggest code snippets to developers as they write software. GitHub trained this neural network with the code hosted on GitHub; while the Free Software Foundation (FSF) urges free software developers not to host their code on GitHub, many do, and even many who don't have their work mirrored there by others.
We already know that Copilot as it stands is unacceptable and unjust, from our perspective. It requires running software that is not free/libre (Visual Studio, or parts of Visual Studio Code), and Copilot is Service as a Software Substitute. These are settled questions as far as we are concerned.
However, Copilot raises many other questions which require deeper examination.
The Free Software Foundation has received numerous inquiries about our position on these questions. We can see that Copilot's use of freely licensed software has many implications for an incredibly large portion of the free software community. Developers want to know whether training a neural network on their software can really be considered fair use. Others who may be interested in using Copilot wonder if the code snippets and other elements copied from GitHub-hosted repositories could result in copyright infringement. And even if everything might be legally copacetic, activists wonder if there isn't something fundamentally unfair about a proprietary software company building a service off their work.
With all these questions, many of them with legal implications that at first glance may have not been previously tested in a court of law, there aren't many simple answers. To get the answers the community needs, and to identify the best opportunities for defending user freedom in this space, the FSF is announcing a funded call for white papers to address Copilot, copyright, machine learning, and free software.
We will read the submitted white papers, and we will publish ones that we think help elucidate the problem. We will provide a monetary reward of $500 for the papers we publish.
We will also consider requests for funding to do further research leading to a later paper.
Areas of interest
While any topic related to Copilot's effect on free software may be in scope, the following questions are of particular interest:
Is Copilot's training on public repositories infringing copyright? Is it fair use?

How likely is the output of Copilot to generate actionable claims of violations on GPL-licensed works?

How can developers ensure that any code to which they hold the copyright is protected against violations generated by Copilot?

Is there a way for developers using Copilot to comply with free software licenses like the GPL?

If Copilot learns from AGPL-covered code, is Copilot infringing the AGPL?

If Copilot generates code which does give rise to a violation of a free software licensed work, how can this violation be discovered by the copyright holder on the underlying work?

Is a trained artificial intelligence (AI) / machine learning (ML) model resulting from machine learning a compiled version of the training data, or is it something else, like source code that users can modify by doing further training?

Is the Copilot trained AI/ML model copyrighted? If so, who holds that copyright?

Should ethical advocacy organizations like the FSF argue for change in copyright law relevant to these questions?
Submission guidelines
Submissions must be received by 10am Eastern Daylight Time (14:00 UTC) on Monday, August 23, 2021 via email to licensing@fsf.org.
General
The paper should relate to one or more of the areas of interest as outlined above.

We prefer that papers have the community of the free software movement as their target audience, but papers that are written for legal professionals will be considered.

We suggest that authors obtain feedback from others before submitting the paper. While we may suggest or request changes after our review, the paper should be ready to publish when submitted.
Format
The paper should be no longer than 3,000 words.

The white paper itself should not include any information that compromises the anonymity of the author(s), so it can be sent to the reviewers.

In addition to the anonymized white paper copy, attach a separate document which includes:

Name and email of the primary point of contact for the work;

Any removed or anonymized material, which will not be sent to the reviewers; and

The names and affiliations of any co-authors.

All documents should be submitted in an editable free format, such as OpenDocument or plain text (not DOC or DOCX).

We suggest that papers be written in English, but papers in other languages can be considered.

Material included from other people's works should be clearly marked with appropriate citations.
Review and notification
The FSF's committee will send notifications of acceptance, rejection, questions, or possible revision requests, via email to the primary point of contact by Monday, September 20th, 2021.
Publication
If your submission is selected for publication, we will contact you about choosing a license for the publication. We would expect to agree on one or more from the following list:
We strongly prefer to publish the authors' names, but on the authors' request we may agree to withhold their names.
Questions and comments
For any questions about white paper submissions, or the review and acceptance process, please contact licensing@fsf.org.
Image Copyright © 2021 Free Software Foundation, Inc., licensed under Creative Commons Attribution 4.0 International license.