What's new in the GNU Press Shop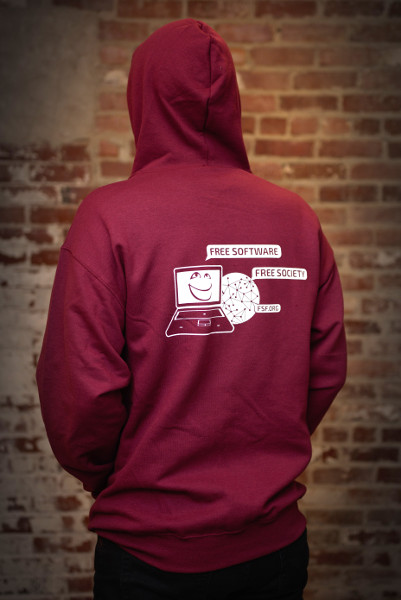 Greetings from the GNU Press Shop! This is an update on what's new and exciting at the Free Software Foundation's (FSF) online store, your source for GNU apparel, programming manuals, and more. We know at this time of year you'll be looking for GNU gifts for your favorite free software enthusiasts, and we have some terrific new picks for you to choose from! For holiday gifting, shipped within the US, we recommend placing your order before December 17th.
For starters, we've got just the thing for the chilly season: we have replaced our extended selection of hooded sweatshirts with a single, user-friendly zip-up design. It still comes in our signature maroon color, but with an all-new "happy computer" graphic by the FSF's superstar 2019 intern Valessio Brito. Between this sweatshirt and the satisfying feeling of helping spread the word about software freedom, we think you'll be quite warm and cozy this winter.
But what to wear under the hoodie? As in past years, the autumn brings a fresh color variation of our GNU head T-shirt. This year's GNU is a snazzy maroon-on-mustard color scheme sure to make anyone who sees it hungry for freedom: the tangy condiment without which the sausage of computing lacks savor. You can also spill nonmetaphorical mustard on it, and nobody will notice.
In addition to the new GNU, we also introduced our Emacs logo T-shirt in a scintillating color combination of purple-on-green. These arrived at the shop in late June, and sold out faster than you can say "M-x apropos-variable RET case-fold-search RET." They are once again fully stocked, and yes, they will make you look a little like a super hero (kind of like a more customizable and self-documenting Green Lantern).
Still want more T-shirts? The LibrePlanet 2020 conference T-shirt is available to order now: they won't be printed until March, but we are accepting early orders for shipping or pick-up at the conference. The shirt is a very handsome muted aquamarine color, and features another excellent illustration by Valessio Brito.
Want something that's not a T-shirt? Customers who welcome the unexpected will be pleased to learn that a new version of the popular NeuG USB True Random Number Generator is now available. The NeuG has undergone an update to both its physical design and firmware, and provides higher-quality random numbers than ever before.
Your purchases support the mission of the FSF and help us empower the world through the use of free software. Associate members are the heart of our commitment to create a world where all software respects our freedom and dignity. By becoming an associate member, you'll help us reach our goal of 600 new members by the end of the year, and of course you receive a 20% discount at the GNU Press Shop. This means, for instance, if you are starting a free software manual book club and tea drinking society, the fifth member of your club can be outfitted with books and mug gratis.
I'm proud to say that I personally fill and ship every order from the shop, so if you have any queries regarding shipping, please send them my way. I also lead in selecting and designing new products, and I can tell you that we are more than happy to receive your suggestions and opinions about our merchandise. For any of this correspondence, simply reply to this email or write me at sales@fsf.org.
Thanks for reading this update! I hope that you find something in the GNU Press Shop for all the software freedom enthusiasts in your life, yourself included.