Hot new summer items from GNU Press!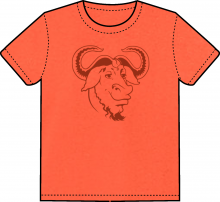 The Free Software Foundation's (FSF) summer fundraiser is underway, and that means there are new items in the GNU Press Shop!
First and foremost, there's the latest GNU hue: the gnu head T-shirt in "thirty-fifth anniversary" coral. You will stand out from the crowd in this exuberantly colored shirt. We're taking orders for a limited time for these, until July 16th, and then printing the shirts -- you should have yours in your hands and on your shoulders a few weeks later.
We are also very pleased to present the GNU Press Shop's most novel novelty item yet: the software freedom advice orb. This "apparently-smart" tool offers words of wisdom to free software developer and layperson alike. Whenever you can't decide whether to "read the docs" or "file a bug," the orb can help. It's usable on any number of occasions and requires no charging or maintenance. We have a limited number of orbs, so get yours before they're gone!
Last but not least: Did you miss your chance to get one of the FSF's thirty-fifth anniversary lapel pins? There's no need to mourn the missed opportunity -- we've made them available at the GNU Press Shop. Don't be the last in your coding collective or IT department to commemorate this momentous anniversary -- order one before they sell out soon!
The GNU Press Shop has plenty of other goodies, new and old, as well, and we urge you to explore! Your purchases support the mission of the FSF and help us empower the world through the use of free software.
We also hope you'll consider becoming an FSF associate member, putting yourself at the heart of our commitment to creating a world where all software respects our freedom and dignity. Plus, you'll help us reach our summer fundraising goal of USD 50,000 before July 16, and of course, you'll also receive a 20% discount at the GNU Press Shop.
I'm pleased to say that after a long period of pandemic-related confusion, we are back on a regular shipping schedule (to be exact, I mail most parcels on Monday afternoons). And as always, you can email me at sales@fsf.org with any questions regarding GNU Press merchandise, suggestions for new products, or inquiries regarding your order, or anything else. The operations assistant is standing by!
Illustration Copyright © 2021 Free Software Foundation, Inc., licensed under Creative Commons Attribution 4.0 International license.