GNU Emacs Reference mugs now available
GNU Press offers a limited number of GNU Emacs Reference mugs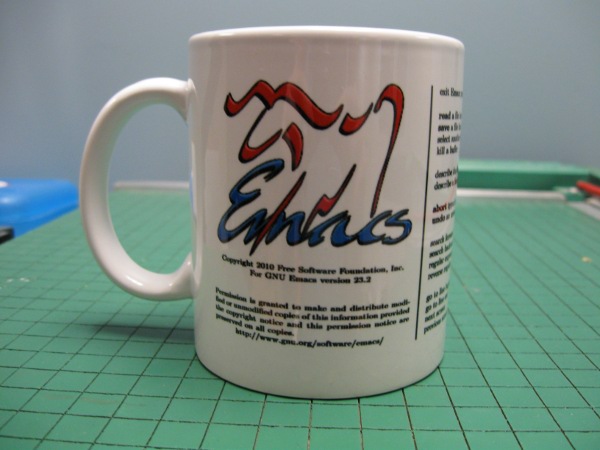 UPDATE: ALL SOLD OUT
Unfortunately, due to the incredible popularity of our GNU Emacs Reference mugs, we have sold out our entire stock in less than 24 hours. We apologize for the inconvenience. We are in the process of ordering more mugs, and if you would like to be first in line to buy one, please join our GNU Press mailing list.
Thanks to a generous donation by one of our supporters, we are now able to offer a limited set of GNU Emacs Reference mugs through the GNU Press. These ceramic mugs feature a two-color Emacs logo as well as a handy Emacs quick-reference guide. Like our Emacs Reference cards, these mugs feature all the commands needed to dive right into using Emacs. They're perfect for anyone who loves coffee (or tea!) and coding, and buying one helps support the FSF.
In addition, we are still auctioning off the remaining set of our limited-edition LibrePlanet 2012 t-shirts. If you missed out on getting a shirt at the conference, or couldn't physically make it to the venue this year, this is your last opportunity to get these shirts. They are available in regular and ladies cut styles while supplies last.
As always, if you can't find something in the store but think we should offer it, please add your suggestion to our Ideas page. And remember, associate members of the Free Software Foundation get a 20% discount on all purchases made through the GNU Press store, so if you are not a member already, join today!