Emacs Reference mugs are back!
by chrissie Contributions
—

Published on

Jun 21, 2012 05:26 PM
Announcing the return of the Emacs Reference mugs, and a discount on Emacs manuals.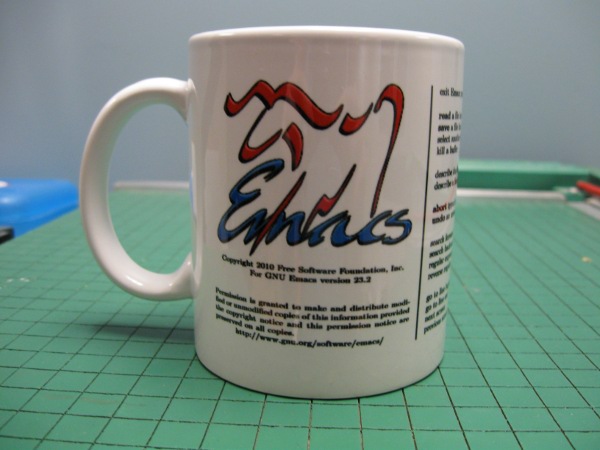 The GNU Emacs Reference mugs are back! These ceramic mugs feature a two-color Emacs logo as well as a handy Emacs quick-reference guide. Like our Emacs Reference cards, these mugs feature all the commands needed to dive right into using Emacs. They're perfect for anyone who loves coffee (or tea!) and coding, and buying one helps support the FSF. These sold out in less than 18 hours last time so pick yours up today!
Also, we have version 24 of the Emacs Manual coming out in print later this summer. To make room we've discounted our older editions, version 22 and version 23.3, to $15 and $30, respectively.
As always, if you can't find something in the store but think we should offer it, please add your suggestion to our Ideas page. And remember, associate members of the Free Software Foundation get a 20% discount on all purchases made through the GNU Press store, so if you are not a member already, join today!
To keep up with announcements about new products available in the GNU Press store, subscribe to the mailing list. Subscribers have known about the new mugs for a few days already :).