Beat the heat with GNU summer swag
Thanks for your enthusiasm for free software! A great way to fund the GNU Project, and promote computer user freedom at the same time, is by purchasing merchandise from the GNU Press shop. While I can't list everything here, please browse shop.fsf.org for more GNU and FSF gear.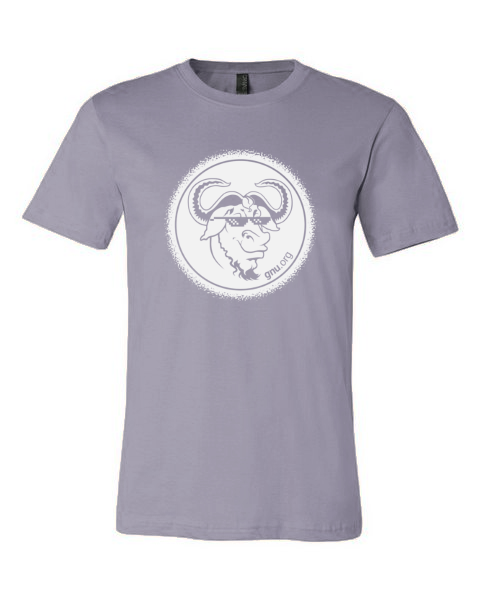 This year's color is in: we have a brand new GNU head t-shirt in "storm" color (a muted tone, halfway between tan and purple). This is different than all previous years: not only did we invert the print, but the GNU itself is sporting sassy sunglasses. Pre-order yours by Friday, July 8 to receive it in August. We expect to only print this once. All our t-shirts are printed locally on ethically-produced, 100% cotton material (read more on the product page).
Now that you've found your reason to use free software (and while you're waiting for your shirt to arrive), it's a good time to get an introduction to one of its most basic components: the command line. Introduction to the Command Line, a comfortable primer on becoming a GNU/Linux power user, is a great addition to anyone's summer reading list.
Reading is hard with a glaring sun, so shade your eyes with a GNU baseball cap: pitch black with brilliant gold embroidery. These are well-stocked and great for wearing anywhere (especially to free software events).
If you're not sure what to get, our Super Sticker Mega Multi-Pack is a great item for any free software enthusiast, and it includes messaging from our most popular campaigns and projects.
Finally, for those who are already living the dream, getting paid to work with free software, you'll adore our Live the Dream t-shirt. It's blue, it's beautiful, and it's got all your favorite free software mascots! However, stock is limited.
If you're not already, we also hope you'll consider becoming an FSF associate member, putting yourself at the heart of our commitment to creating a world where all software respects our freedom and dignity. Plus, you'll help us reach our summer fundraising goal of USD 67,000 before July 18, and of course you'll receive a 20% discount at the GNU Press shop.
Thanks for taking a look, and if I can answer any of your questions about our products and/or shipping, please email me at sales@fsf.org. Have safe and cheerful summer!
Illustration Copyright © 2022 Free Software Foundation, Inc., licensed under Creative Commons Attribution 4.0 International license.