You did it! The fundraiser was a success -- are you ready for what's next?
You did it: thanks to your generous support, the Free Software Foundation raised $452,000 in its winter fundraiser. Thank you.
Once again, the free software community helped put the FSF in a strong position to tackle our list of free software initiatives in 2016, by giving $5 or $10,000, becoming a member for the first time, donating a little bit extra this year, and simply helping spread the word. We've said it before, but we'll say it again: we really can't do this work without your passion and generosity.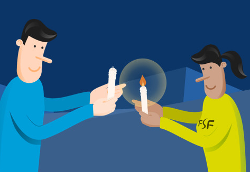 Here's what you helped us achieve:
4,124 membership contributions (annual and monthly)
2,163 one-time donations -- an increase of 629 over last year's fundraiser
An average one-time donation of $97.39
And finally, you smashed our goal of 400 new members:
In addition to feeling humbled by your generosity, we get some heartening takeaways from those numbers. More people than ever are supporting the FSF's work defending user freedom - in addition to welcoming more new members than in any previous fundraiser, more people gave, and gave more generously, than in the past. Modest giving made an impact, too: those who gave $30 or less contributed nearly $7,000 more than last year, proving that every little bit really does add up. We always appreciate any new membership, but this year, we witnessed an especially moving commitment from hundreds of people who have made the choice to pledge ongoing financial support to the FSF, bringing our total membership to nearly 4,000. Imagine that: four thousand candles lighting the way.
Your support is our mandate. We will continue our work to serve as a guiding light for the free software movement, and to make new lights to burn brighter. In the coming weeks, look for a report on our findings from the FSF Vision survey, an update to the High Priority Free Software Projects list, and rousing conversation and community building at LibrePlanet, as well as more announcements from the Respects Your Freedom certification program, further action resisting the Digital Millennium Copyright Act's Digital Restrictions Management anti-circumvention provisions, and upgrades to the FSF and GNU Project infrastructure.
Once again, thank you for your contributions to the free software movement, and your support of the FSF. Remember that FSF membership offers many benefits, including gratis admission to our annual LibrePlanet conference. Register today to join us at the Massachusetts Institute of Technology's Stata Center on March 19-20, 2016, where we will present LibrePlanet 2016: Fork the System, in partnership with MIT's Student Information Processing Board.