Will you be at LibrePlanet this weekend?
The FSF office is abuzz with activity as the free software community gathers in the Boston area for LibrePlanet.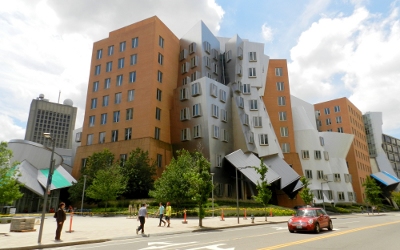 MIT's Stata center, where LibrePlanet will be held. Image CC-BY-3.0 Pablo Valerio.
We want you to be a part of this! Register now and don't miss out.
The program is replete with keynotes from Wikimedia outgoing executive director Sue Gardner, NSA-revealer Jacob Appelbaum, GNOME executive director Karen Sandler, and free software legends Eben Moglen and Richard Stallman. We've also just added a Saturday lunchtime round table, where conference participants will be able to help plan this October's Digital Media Conference, an independently organized event attended by many free software users and activists.
But half the fun is the social events, which start on Friday at 17:00 with the Free Software Foundation open house and cryptoparty. In addition to the five social events we had already planned, we're hosting a post-conference Speakeasy mixer along with our friends at the Electronic Frontier Foundation. Attend for no cost, and clink glasses with employees and supporters of two of the world's leading digital civil liberties organizations.
LibrePlanet will take place in MIT's public transportation-accessible Stata Center in Cambridge, and is co-organized by MIT's Student Information Processing Board. Registration starts at 09:00 on Saturday, and breakfast will be available.
Students and volunteers receive gratis admission to the conference. This is also a great time to become an FSF member, as one of the perks is admission to LibrePlanet. Register for LibrePlanet today. We also accept walk-up registrations.