We have nothing to hide, only everything to protect
"I have nothing to hide." That's what most people say when I start a conversation about privacy. Have you ever wondered why you should use software that protects your privacy and the privacy of the people you communicate with? To understand this better, I recommend watching the first talk in our LibrePlanet 2023 lightning talk series. In her five minute talk, the speaker will convince you that you are worthy of all the privacy you want and need. For people who claim that they have nothing to hide, she has a persuasive reply: "I have nothing to hide, only everything to protect."
If you don't use free software for the sake of your own privacy, then use it to protect your loved ones; if you don't value yourself enough to make sure that information that's yours -- and only yours -- stays with you, then at least honor the privacy of the most vulnerable people in our society. History shows that even societies that are considered to be free have areas in which they struggle to exercise equal treatment and fail to guarantee human rights for everyone who lives within them. In the above-mentioned lightning talk, the speaker cites the example of the Underground Railroad, a network of secret routes and safe houses that helped enslaved African Americans in the 19th century escape from slavery. The Underground Railroad would not have been possible without privacy!
At a time when ongoing legislation all over the world is threatening end-to-end encryption and developers of large language models blatantly violate privacy laws to get training data for their systems, we will be publishing a series of articles to highlight the importance of privacy. In our upcoming articles, you will be introduced to people who use privacy-protecting free software and learn what you can do to counter the dangers resulting from the ongoing legislative processes. While waiting for these articles, you can read our previous articles on privacy and strengthen end-to-end encryption by using it.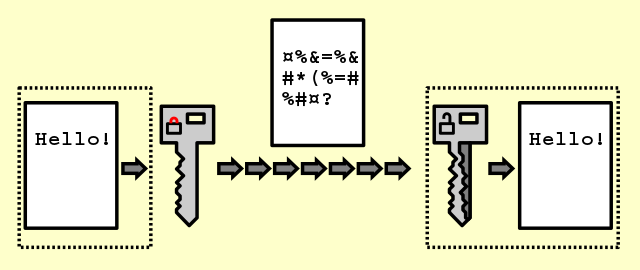 Strengthen end-to-end encryption by using it
The more people who use end-to-end encryption in their everyday lives, the stronger the protection is for all of us. Only as a community can we withstand oppressive mass surveillance. And only by using free software can we rest assured that our privacy is protected. And, if you wonder why it has to be free software, we recommend reading our blog article "True privacy and security depend on free software." To protect your privacy, we recommend using:
By using these programs, you will protect yourself as well as your loved ones. We all deserve privacy!
Illustration Copyright © 2014, Johannes Landin. Licensed under Creative Commons Attribution-Share Alike 3.0 Unported International license.
Further articles in this series
Take action! Protect end-to-end encryption
From pro-democracy activists to minorities: Why people use Tor and encrypted chats
Parents, domestic violence victims, lawyers: Read about people who protect their privacy with free software