Virtual LibrePlanet raffle: Encourage others to join FSF and win prizes!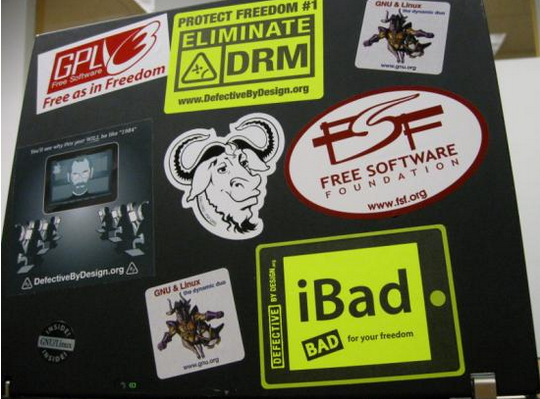 For the past few years, the LibrePlanet conference has featured a fundraiser raffle with prizes donated from the free software community. The raffle is always a great opportunity for us to highlight the companies and groups selling products of interest to free software activists. Importantly, it also helps pay for the many costs associated with planning the preeminent two-day free software conference, including scholarships, logistics, and staff time.
Even though LibrePlanet was held online this year, we still have the raffle prizes generously donated by Technoethical, Vikings, JMP.chat, No Starch Press, and ThinkPenguin. For a limited time, you have a chance to win these prizes while helping us grow the free software community and supporting next year's LibrePlanet conference.
From April 30, 2020 to May 31, 2020, the FSF will be holding an associate membership referral drive. In order for you to qualify to win a prize, new members have to sign up using your referral link. You will find your personal referrer link on the dashboard after logging in at https://my.fsf.org/.
You can win prizes by helping us sign up new annual associate members ($120 per year, or $60 for students). Let them know that membership comes with many benefits on top of the invaluable reward of supporting the free software movement! No matter how many new members you refer, telling your community that you care about free software goes a long way in making free software a kitchen table issue.
Prizes
Everyone who refers at least one new annual associate member during the drive will receive a special Super Sticker Mega Multi Pack from the GNU Press shop.

Refer two new annual associate members who join, and you can win a limited edition LibrePlanet 2020 T-shirt and one of the following: a ThinkPenguin wireless-N Mini VPN router v2 or a libre-friendly Vikings WNDR3800 WLAN home router.

Refer three new members, and you can win one of the following: a custom GNU Press shop bundle (can include GNU beanie/scarf, LibrePlanet T-shirt, GNU Emacs gear) or a three-year JMP.chat gift certificate.

Refer more than three new members, and you win both a $200 Vikings store gift certificate and a $120 gift certificate for libre-friendly hosting through Vikings.

Refer the most new members and win a Technoethical S2 smartphone and a $200 Vikings store gift certificate and a $120 gift certificate for libre-friendly hosting through Vikings.
There is a very limited number of prizes which will be awarded first come, first served: the sooner you refer members who join, the more likely you are to get a coveted prize. Referrers will be notified as their referrals come in. Other than the sticker pack, prizes do not stack between tiers. The FSF can ship prizes to you once the Boston office is operating on a regular schedule again; due to the mandatory office closure, prizes may not be shipped until later in the calendar year.
There is no better time than the present to help grow the free software community -- and win prizes while they are still available!