Videos and photos from the FSF30 celebrations now available
As we wind down from the Free Software Foundation's 30th anniversary celebrations, I wanted to share some photos and video from the FSF's party and satellite celebrations from around the world.
First, watch this video of FSF general counsel and Software Freedom Law Center President and Executive Director Eben Moglen's talk, "FSF from 30 to 45," given at the User Freedom Summit held at Lesley University in Cambridge, MA. Moglen looks ahead to the crucial issues facing the free software movement in its next fifteen years.
At the 30th anniversary party held in Boston, we had two recorded greetings from friends of the FSF who were unable to attend in person. One was by FSF member, BoingBoing co-editor, and EFF fellow Cory Doctorow. The other greeting was from computer scientist and science fiction writer Vernor Vinge.
Check out the video of the performance of the Free Software Song and the Bulgarian folk song that inspired it, Sadi Moma Bela Loza, by members of the Boston Bulgarian singing groups Divi Zheni and Zornitsa. We will have more videos of other guest toasts and RMS's address soon.
Across the world, the Free Software Foundation Europe held a party with a beautiful cake and balloons with the FSF30 logo. Read FSFE Vice President Matthias Kirschner's post about the 30th anniversary.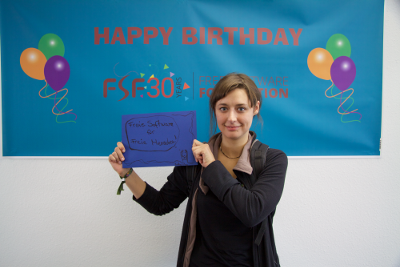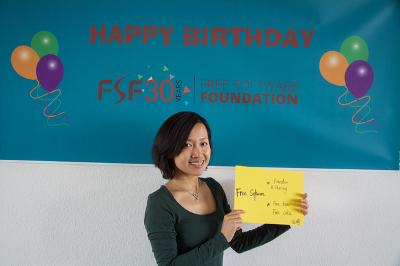 Ohio GNU/LinuxFest broadcast a stream of the Boston party proceedings for attendees. They also made an awesome cake: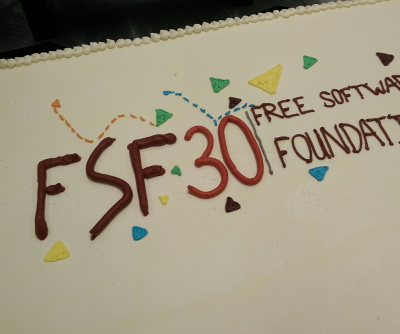 More than two-thirds of the FSF's funding comes from individuals like you. We rely on the free software community's generosity, and there are many ways to give. If you haven't already, will you consider giving $30 to celebrate thirty years of the FSF? You can also support the FSF by buying a copy of the third edition of Richard Stallman's essay collection, Free Software, Free Society, which is now available in hardcover and paperback, or a commemorative FSF30 t-shirt.
Again, thanks for celebrating thirty years of the Free Software Foundation.