This year, take some time to reflect on why you love free software
Valentine's Day is a day to reflect upon our relationships with our loved ones, but we ask you to take a moment on this day to reflect on something else -- your relationship with technology.
"I love free software because it's cool, and so are you!"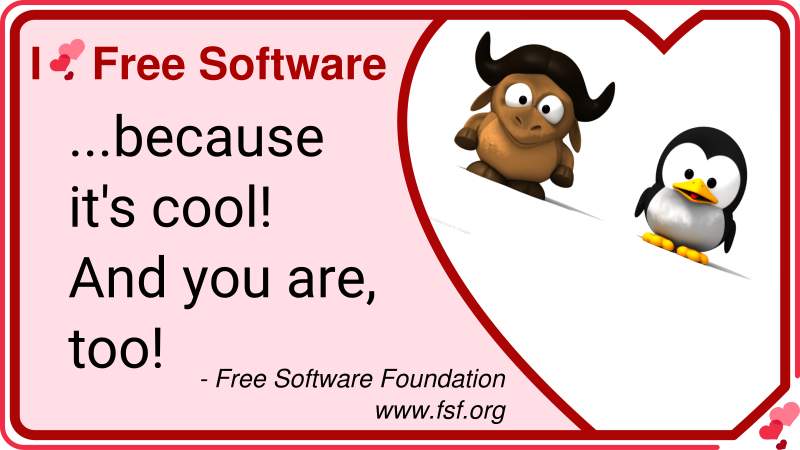 Valentine's Day is a day to reflect upon our relationships with our loved ones, but we ask you to take a moment on this day to reflect on something else -- your relationship with technology. Software is so pervasive in our lives that it deserves some extra attention. There are millions of people in the world, who, on a daily basis, are working to give users free (as in freedom) options. I Love Free Software Day, started by Free Software Foundation Europe (FSFE), is a day to reflect upon our appreciation of free software. It is also a day to help a friend or family member learn more about the benefits of choosing user freedom.
This year, to celebrate, we wanted to share some responses we have heard from the broader community about how they came to learn about free software and their reasons for loving it. Please read their responses, and consider sharing your own story via the Freedom Ladder page on the LibrePlanet wiki, as well as on social media. Let's celebrate together, and take a few steps toward educating others!
Reasons to love free software
This year we organized an online event in which we asked free software supporters to share their free software journey in order to help others start their own. At the event, we asked attendees, among other things, to share what their favorite free software projects are, how they learned about free software, and what keeps them committed. Here are some of their responses we felt were especially worth highlighting:
What is your favorite free software project?
"GNU binutils and GNU toolchain, GNU. The world is much better with GNU."

"Trisquel: is like Ubuntu but 100% free. User friendly. Thank you Ruben and all folks there in this project."

"The Guix package manager, because it provides unprivileged package management, and bit-for-bit reproducible portable packages."

"GNU Emacs, it can do many things and is infinitely customizable."
Don't see your favorite project here? There is still time to participate in the discussion on the Freedom Ladder page.
How did you learn about free software?
"I was watching a TV show, The Big Bang Theory, and one of the characters, Sheldon, mentioned Ubuntu. [...] When I read more about what GNU stands for, software freedom, I became a free software advocate. I call the operating system I use GNU/Linux and use free software."

"In one of the courses I attended in college, one of the students did a presentation about copyleft. The first time I learned about free software properly was reading Free Software, Free Society in ~2017."
Take a moment to reflect upon how you first encountered free software. Perhaps it just "clicked" for you. Perhaps it took some persuasion. Either way, you found yourself on a new path and we are glad to be on it with you.
What keeps you committed to free software?
"I love rights, I love the people, I love the idea, and I love the fact that I can fix my computer if I have a bug!"

"Reliability -- possibility to learn new stuff -- keeps me running :-)"

"Awareness that even if a program doesn't work as expected, I can fix it myself or with the help of the community."
We thought -- and we hope you agree -- that these are all great reasons to love free software! We look forward to having you join in future events so that we may hear your favorites as well.
Sharepic: One way to tell the world why you love free software
FSFE created a free template of a shareable image called a "Sharepic" for you to create a festive image you can upload to a Web site and/or social media.
Use the template to create your Sharepic. Step-by-step instructions are below.

Before you begin, make sure you have a free software SVG editor, such as Inkscape, installed on your computer.

To change the text in Inkscape, click the text using the "text object editor" (big "A" on the toolbar)!

To change the image in Inkscape, click "File" from the menu and select "Import." Select your desired image from your computer.

Now you can move/resize your image into place. Feel free to delete the image behind the heart shape in the template.

Move the image until your new image is behind the template, but visible within the heart shape.

Click "File" from the menu, and choose "Export PNG Image." Select "Page" as the "Export area" in order crop the resulting image automatically.

We encourage you to share your custom picture on your preferred social media with the #IloveFS hashtag.
Share your love with the #ILoveFS hashtag
Over the next few days, we will be reading posts with the hashtag #ILoveFS on social media to get a better understanding for what folks love about free software, especially how they started their respective journeys. Please feel free to share why you love free software, even if you do not create a Sharepic.
Help educate others toward making their first step
Of course, what is love if you cannot help others feel it for themselves? This is why the Free Software Foundation (FSF) has been engaged in an ongoing Freedom Ladder campaign, with the goal to help others learn for themselves what free software is, and why so many people -- from around the world -- love it. If you have a moment, please check out the campaign page, read stories from others, and consider offering your own input as well.
Please enjoy I Love Free Software Day with friends and family this Monday.
Image Copyright © 2022, Free Software Foundation, Inc., Licensed under Creative Commons Attribution 4.0 International license.