These pictures are worth 1,024 words
Today we're launching a new way to express the importance of free software and GNU -- shareable badges.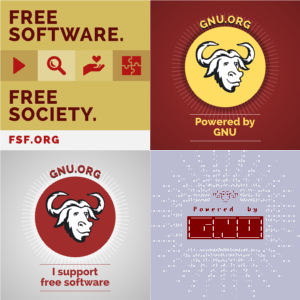 Explore all the badges, including alternate colors and embed codes for your blog or Web site.
These beautiful badges come in four different styles, each with three color schemes to pick from. They're perfect for sharing on social media or embedding on your Web site or blog, and we've provided embed code that links back to pages that will help new people get acquainted with free software.
Choose your favorite badge and start sharing. You may want to explore our thoughts on different social media platforms.
Best of all, the badges are licensed under CC BY 4.0, made by our friends at Manufactura Independente using all free software, and their source files are available, so you can translate and remix them to your heart's content.
We love giving you beautiful things to represent free software, and we want to make more. Can you donate $40 to help us do more of this in 2015?
In addition to being nice-looking and fun, we think that works like these badges are an important part of winning free software the recognition and respect it deserves in the broader world beyond computing. A picture is worth 1,024 words, and the easier it is for our friends, family members and policy-makers to understand our message, the more influential our movement will be.
Enjoy the badges, and please donate.