The last day of our fundraiser, and the work ahead
Today is the last day of our winter fundraiser.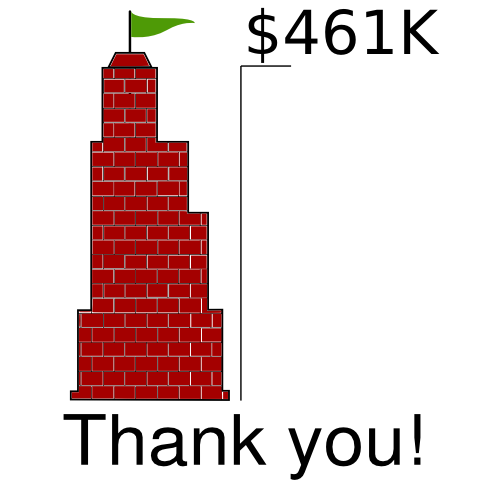 Please take a minute now and join as a member, or make a donation to help meet our goal of $450k, building us the strong foundation we need to work on your behalf the rest of the year.
To those who have already donated during this cycle -- I know we've asked a few times -- thank you. We couldn't do it without you, especially our members and the other generous folks appearing on our 2013 and 2014 ThankGNU lists.
With so many causes out there, why support the Free Software Foundation? What does your membership accomplish?
The FSF has a threefold worldwide mission:
We work politically and publicly to protect your freedoms in a digital world where megacorporations and governments are constantly trying to whittle them away.

We help develop the freedom-respecting software you need in order for your computers to do the things you need done.

We hack the legal system to help anyone distribute code under conditions that ensure their contributions will be irrevocably part of a powerful and growing software commons, for you to use.
Together, these three elements compose the antidote to the overwhelmingly anti-individual and anti-community digital existence created by proprietary software whose owners -- primarily, but not exclusively Apple and Microsoft -- go to great lengths to ensure they have as much control as they can win over anyone using their products.
Our smartphones and tablets are packed with this proprietary software, effectively turning them into black boxes that constantly leak information about us without our knowledge. Our files and emails stored on remote servers can be accessed without notification. Our Web browsing and online communications are tracked in excruciating detail and will be stored for decades. Our computers connect to the network behind our backs. Our music, movie, and ebook collections are lost over and over again as we switch from one device's arbitrary set of software restrictions to another's.
We have been warning about these dangers, and trying to help people avoid them, for almost thirty years.
Suddenly, these risks have become mainstream, and the facts about their consequences indisputable. Suddenly, everyone knows the digital world has become extraordinarily unsafe, and is getting worse. What will happen with our future voting machines? Or our increasingly computerized cars? Or our ever "smarter" household appliances?
Whatever you think about bulk surveillance programs like the NSA's, whether your privacy concerns are mainly about private corporations or governments, you need free "as in freedom" software. It is the only way to have a fighting chance at however much privacy and security you think we deserve as electronically enabled citizens of the world.
There are many organizations out there working on legislative or policy solutions to some of these problems. That's important work, and we support some of it ourselves. But this avalanche of threats cannot be defended by laws or policy alone. You need to protect yourself, and you want to do right by your community. The first step is to demand software that is under your control.
You can choose not to buy proprietary products or use problematic remote services from Microsoft, Apple, Google, Facebook, and the like -- and that's a choice you should make. But that's not a sufficient solution to this problem. These companies leverage powers wrongly given to them by the government to prevent freedom-respecting replacements from emerging.
To actually solve this problem, we're asking you to do three things:
Become a vocal supporter of free software ideals. Even if you're still forced to use Windows at work, ally with the free software movement. The first step to having freedom is to tell yourself you should have it, and encourage others to do the same.
Start to support these ideals in practice. Use free software applications even if you aren't ready to change operating systems yet. But make a resolution to try a free operating system -- we have one called GNU/Linux -- and then switch to it.
Support these ideals financially. Become a member of the FSF, or make a smaller donation. We'll use your hard-earned money wisely. We're rated four stars on Charity Navigator, with the maximum score for transparency and accountability.
This is the last day of our fundraiser. But it's not the last day that you can join the FSF as a member, or make a donation. We don't ask for your money lightly, and we intend to return its value to you in spades. If you can support us with even a portion of the amount you might have paid to proprietary software companies and similar services over the last year, our highly rated and efficient organization will use it to help you build a much better world.