The GNU System is turning forty: Come and celebrate with us
GNU is turning forty, and there are two different locations to join us for celebrations. Learn more.
The GNU Project is turning forty. Come and celebrate this event with us together with kith and kin! For those of you located in the United States, the Free Software Foundation (FSF), the sponsor of the GNU Project, is preparing a family hackday in Boston, MA. For those located in the European Union, the GNU Project is organizing a hacker meeting in Biel/Bienne, Switzerland.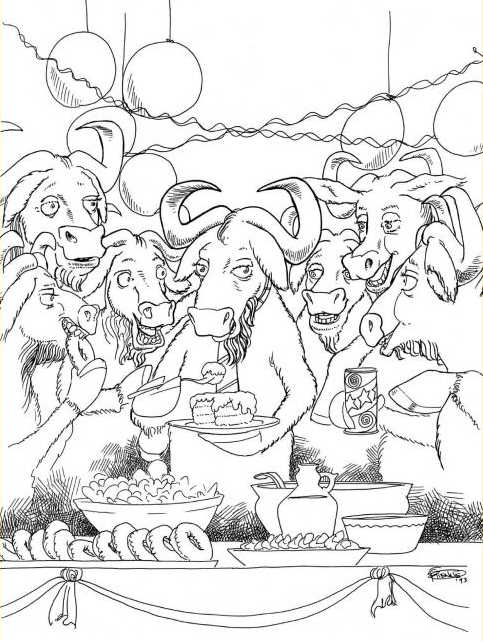 Celebration in the United States
On October 1, the FSF is organizing a hackday for families, students, and anyone interested in hacking. Come to Boston and celebrate with us together with kith and kin!
No matter if you are an advanced hacker or a hacker-to-be, if you want to learn the basics of hacking or just hang out with others while working on your own project, you are invited. Bring your fellow students, family, or neighbors to hack along, get a gnu painted on your face, or just eat cake and socialize.
The program features a Music Blocks programming session for kids, learning stations to introduce you to the command line and basic hacking, a GNU Boot flashing demonstration, face painting, and other activities for families, hackers, and hackers-to-be.
For the detailed program please see https://www.fsf.org/events/gnu40. You don't need to register to the event, but registration is recommended as it will assist us in our planning. Admission is free, and donations are welcome. There will not be a livestream available, but we will be sharing photos from both events on the day through our social media channels.
Please email campaigns@fsf.org if you are interested in adding to the program by offering a workshop, learning station, or assistance for hackers and/or hackers-to-be.
Celebration and hacker meeting in Switzerland
The GNU Project is celebrating its fortieth anniversary with a hacker meeting in Switzerland, which will feature presentations about various GNU packages, hacking, and making new releases. Among the speakers are celebrities such as Richard Stallman, the founder of GNU; Free Software Award winner Sébastien Blin of GNU Jami; the president of the Free Software Foundation Europe, Matthias Kirschner; and several GNU webmasters.
When? September 27, 2023, 9:00-22:00 CEST
Where? Volkshaus in Biel/Bienne, Switzerland
What? Hacker meeting

The hacker meeting is open to all who want to celebrate, work on, or learn about free software. For a preliminary schedule, information how to get there and where to stay, see the official web page.
The organization and financing for this event is done by GNUnet e.V. and donations would be much appreciated to help cover the cost of paying for the venue and other organizational expenses. Attendees are welcome to contribute in cash, and Europeans can also send a SEPA transfer.
Support the FSF and the GNU System
Please donate to support the FSF and GNU for the next forty years to come. Only with your help, can we continue to sponsor the GNU System and to promote the development and use of free software and documentation.
We look forward to seeing you either in Boston or in Biel/Bienne,
Illustration Copyright © 2023 Free Software Foundation, Inc., licensed under Creative Commons Attribution 4.0 International license.