Thank you for your generous support as we move freedom forward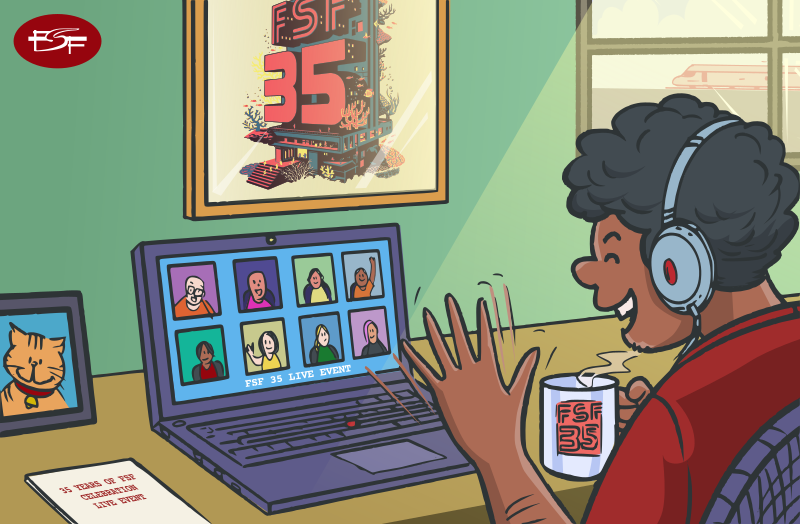 When the Free Software Foundation (FSF) officially ended our annual membership drive on January 18, the freedom train banner progress bar read 487/500 new members. With 500 new members in eight weeks being an ambitious goal, that's already an incredibly strong show of support! But there's more -- because of massive delays with the United States Postal Service due to the pandemic, we are still receiving new member signups that were mailed during the fundraiser. And there are gift memberships that were purchased but don't count until they are redeemed. This means that when all is said and done, we think we did reach our target of 500. This support has put us in a strong position to do our work in 2021, holding the line for your freedom and making new inroads against the proprietary establishment. We are beyond grateful for your generous support and your help in creating awareness about free software.
Whether you've been around for some of the thirty-five years that we've been an organization, or just joined us, we hope that you'll continue to support our efforts for a world where users are in full control of the software that powers all of their devices.
We closed our fundraiser with the launch of a new cyberpunk-themed animated video called Fight to Repair, emphasizing the crucial need for users to be able to modify and fix the software components in the hardware they rely on in daily life. It's been inspiring to see the response the video has received in the free software community, and since its release, thanks to volunteers everywhere, eleven translations are on their way, helping to make our message accessible to more viewers around the globe. Fight to Repair is one more way we're bringing free software to the kitchen table, making it easier to let your friends and loved ones know how important it is to protect and fight for their software freedom. This video is only the beginning, and we will continue fighting for your right to repair, in partnership with other like-minded groups -- keep an eye on our new campaign page for more information.
If you are new to the FSF community, or just curious to learn more about the FSF's thirty-five year history, recent articles in our blog have covered the origins of, and some of our favorite anecdotes from, the FSF's three main spheres of work: technical projects, campaigns, and licensing. Talking to past staff members and FSF alumni about their favorite moments in free software history was a blast for us, and we hope the stories we collected will inspire you to take the next steps in your personal journey toward software freedom.
Next on deck for the FSF, we're ramping up for this year's LibrePlanet conference, which has a theme of "Empowering Users." Due to the ongoing pandemic, the conference will be held virtually using our entirely free videoconferencing setup, and registration for the conference is now open. Being an FSF associate member grants you gratis perks, in addition to our other membership benefits, like access to our free "as in freedom" videoconferencing server. LibrePlanet 2021 will be livestreamed for everyone. However, we do request that you register in advance for the conference, in order to help us prepare.
Your support during and beyond this fundraiser allows us to get 2021 off to a running start, and it has a direct impact on each of the FSF's initiatives. The injustices being pioneered by "Big Tech" corporations like Apple, Google, Microsoft, and Amazon seem to be getting worse by the day, but as our executive director John Sullivan stated in his comments during the FSF35 anniversary celebration, free software is the "biggest tech" there is. We're so humbled that so many of you included us in your giving plans during this challenging year, and we will work hard to make a positive impact. The FSF staff is small but committed to our goals, so you can be assured we'll put your donations to good use, bringing us all closer to our goal of a world powered by free software.
Illustration Copyright © 2020 Free Software Foundation, Inc., by Raghavendra Kamath, licensed under Creative Commons Attribution 4.0 International license.