Submit your session for LibrePlanet 2021 before Oct. 28 (UPDATE: CFS Closed Nov. 16)
The thirteenth edition of the Free Software Foundation's (FSF) conference on technology and social justice will be held online in spring 2021. The Call for Sessions is now open, and will close on November 11th. Potential talks should examine free software through the lens of this year's theme: Empowering Users.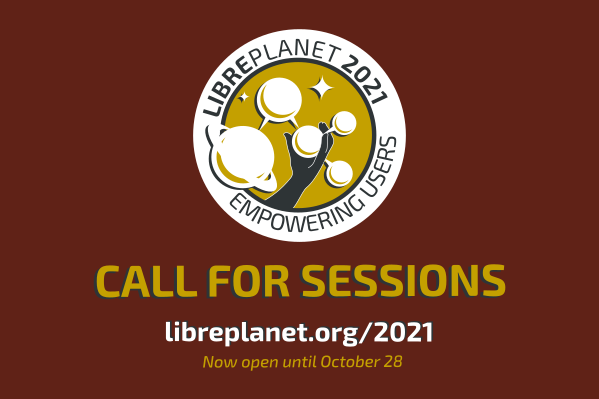 LibrePlanet 2021: Empowering Users site
Submissions are being accepted through Wednesday, October 28th Monday, November 16 at 12:00 Eastern Daylight Time (16:00 UTC). General registration, award nominations, exhibitor registration and sponsoring packages will open soon.
We invite activists, hackers, law professionals, artists, students, developers, young people, policymakers, tinkerers, newcomers to free software, and anyone looking for technology that aligns with their ideals, to submit a proposal for a session at LibrePlanet. Session proposals can focus on software development, copyleft, community, or other related issues.
Theme: Empowering Users
The theme for 2021 is Empowering Users. Over our thirty-five years of campaigning for freedom, the Free Software Foundation has seen countless people start to adopt free "as in freedom" software as a tool to affect meaningful change in their communities. When users have the freedom to study, change, share, and contribute to the software that they depend on, they are empowered to take charge of their own digital lives.
Right now, we are seeing people all over the world band together to show how technology can make us safer and keep us connected without compromising our freedoms. In education, we've reported on people hosting their own videoconferencing services to facilitate free remote learning, and have seen examples of educators teaching university classes with exclusively free software. From Italy to the US, parents, health care professionals, hackers, and tinkerers are getting together to facilitate access to much needed medical equipment to help combat the novel coronavirus. As discontent and distrust with technology conglomerates grows, we see calls for users to navigate away from Facebook's WhatsApp messaging service, and spikes in users on decentralized microblogging services.
LibrePlanet 2021: Empowering Users will be a celebration of such stories. Our work has been motivated by seeing people help others move away from proprietary tools that embrace corporate control and government bulk surveillance. Movements like this help build a future that empowers users and their communities rather than the harmful business models of monopolistic proprietary software companies.
What kind of sessions are we looking for?
Examine free software through this year's theme, Empowering Users, through broader spheres of education, licensing, medicine, government, business, art, or social movements;

Share an update on your free software project;

Present strategies for strengthening the free software community;

Explore current topics in free software licensing and copyleft, or give a great licensing tutorial;

Host a workshop on how to use a free software tool, free software program, or free hardware project;

Explore a free software concept or share your technical knowledge in an interactive session; or

Lead a project "sprint" (a group work session).
All sessions will be reviewed by a community council representing a wide range of expertise. It's important to us to provide sessions that are friendly to newcomers, as well as those that help experienced hackers improve their technical skills. Whatever your experience level or the experience level of your audience, we want to include your session! If you're new to the community, or if you're looking for inspiration, check out this past year's conference site and session videos.
Will this be an in-person event?
This year has been an exceptional year for everyone, and the future is uncertain for in-person events. The FSF will continue to monitor public health notifications, and will follow the guidelines of the City of Boston, the Commonwealth of Massachusetts, the World Health Organization (WHO), and the Centers for Disease Control and Prevention (CDC).
Whether we can safely hold the event in the Boston area and enjoy all the pleasures of meeting the community in person is not yet known. While the goal is to hold LibrePlanet 2021: Empowering Users in person in the Boston area, our conference planning will incorporate the possibility of an online conference. We know many of our attendees and speakers need to plan any travel well in advance; we will do our best to announce the decision on libreplanet.org/2021 and by email as soon as we responsibly can.
We will take the lessons we learned from our online experience this year with us and organize an event that is inclusive and allows people from all over the (libre)planet to participate. With this in mind, we ask everyone submitting a session to tell us if they can be physically present in Boston. Remote sessions will be reviewed with the intent of integrating quality sessions into the schedule. As always, if you will need help traveling to the event, the FSF is offering a limited amount of speaker scholarships, for which you can apply in the session proposal form. You can also donate to help others attend.
Office hours on IRC
We will be holding office hours on Internet Relay Chat (IRC). Those will be designated times where the LibrePlanet team, including experienced community volunteers, will be available to help potential speakers prepare their session proposals for the conference. Office hours are on Tuesdays, and start August 25 on the #libreplanet IRC channel on the Freenode network. They will continue every Tuesday until the Call for Sessions closes on October 28.
Times will be every Tuesday, starting August 25 until October 27, from 13:00 - 14:00 Eastern Daylight time (17:00 UTC).
You can always email us at campaigns@fsf.org with any questions as well.
Share the Call for Sessions with others
Help LibrePlanet grow far and wide by sharing this sample message on your favorite microblog. Feel free to adapt the text and use it with the #LibrePlanet hashtag and the included image.
@fsf announced LibrePlanet's 2021 theme is "Empowering Users." Do you have something to say about this subject, user freedom, free software, digital ethics, or technology? Share it at LibrePlanet 2021 by submitting your session proposal before October 28. https://my.fsf.org/lp-call-for-sessions
We're looking forward to seeing all of the engaging sessions come through. Please join us, and have your voice heard during vital conversations on free software's role in empowering users at LibrePlanet 2021.