Speakers and venue announced for FSF's LibrePlanet 2014 -- register today!
by libby Contributions
—

Published on

Jan 24, 2014 01:08 PM
There is so much to look forward to at LibrePlanet 2014 that I don't even know where to begin. Let me break it down for you.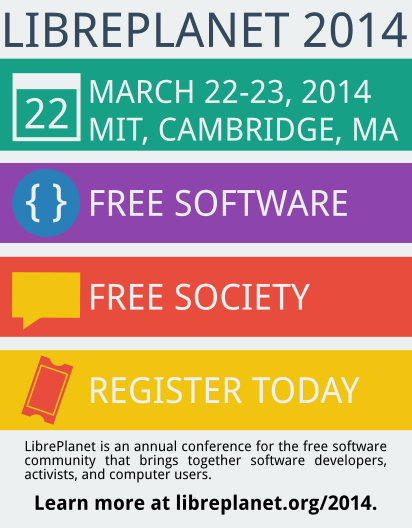 Keynotes
The keynotes at LibrePlanet 2014 are sure to be amazing. We'll be joined by Sue Gardner, outgoing executive director of the Wikimedia Foundation, Eben Moglen, director-counsel of the Software Freedom Law Center, Karen Sandler, executive director of the GNOME Foundation, and the Free Software Foundation's founder and president, Richard Stallman.
Register Today. You won't want to miss these fantastic speeches.
Sessions
This year, LibrePlanet will feature nearly 30 sessions centered around the theme, "free software, free society." You can find a sneak peek of all our sessions on the conference site now--sessions like "Everybody spies," "Lessons in tech activism," "TPP and free software," and "Updating Mailman's UI." Whether you're a developer seeking to deepen your knowledge, a free data advocate who wants to nerd out over OpenStreetMap, an academic who wants more free software in the classroom, or an organizer just starting to see the link between your work and free software, you'll find plenty of great conversations at LibrePlanet 2014.
Register today to catch all of these amazing sessions at LibrePlanet.
Location, Location, Location
LibrePlanet 2014 will be held in the iconic Stata Center on the MIT campus in Cambridge, MA. We'll have some beautiful lecture halls for our sessions and a great big hallway for our exhibitors. (If you're thinking about applying for an exhibit table, the deadline is January 31st, so get crackin'.) This building was designed by Frank Gehry and is also home to the offices of World Wide Web Consortium. So, while you're at LibrePlanet, you just may want to drop in and ask W3C why they are considering weaving support for DRM into HTML5!
Register today to bask in the shiny glory of the Stata Center.
Extracurriculars
Our traditional Friday night open house at the FSF offices is getting a new twist this year--we're adding a cryptoparty! We've also got the Free Software Awards, and a few new and exciting events we're working on announcing. Needless to say, there will be lots of fun activities to fill your evenings during LibrePlanet.
So, what are you waiting for? Registration is open, and, as always, admission to the conference is gratis for FSF members and students. Not a member? Join today and you'll get admission to the conference, plus you'll be helping us meet our winter fundraising goal of $450,000 by January 31st. See you in eight weeks!