Reporting back from day one of LibrePlanet: Charting the Course
Today marked the first of several days of events and talks for the Free Software Foundation's (FSF) annual conference, LibrePlanet, now in its fifteenth year. LibrePlanet 2023's theme is "Charting the Course," and is being held at the Boston Convention & Exhibition Center (BCEC) as well as online.
Of the countries represented, we heard from: Argentina, Australia, Belgium, Canada, Chile, China, Denmark, France, Germany, Greece, India, Israel, Italy, Japan, Kazahstan, Mexico, New Zealand, Netherlands, Norway, Romania, Russia, Slovakia, Spain, Sweden, Switzerland, Turkey, Thailand, United Kingdom, Ukraine, United States, and many, many more!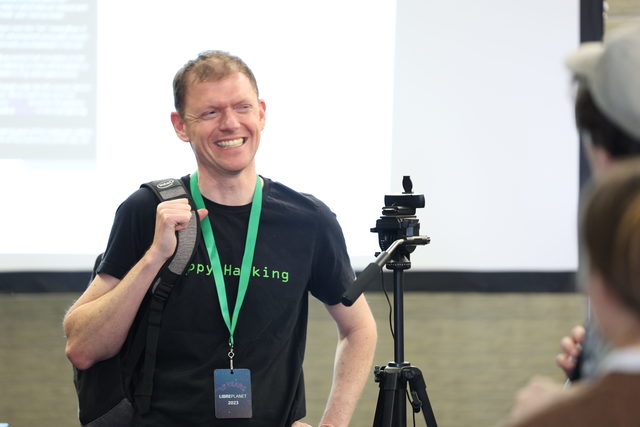 Start of the conference
This year, we took on the ambitious task of running the conference both in person and online simultaneously. And, of course, we did so entirely with free software. Starting the conference, there was a bit of a hiccup finalizing the setup for broadcasting, but, after about a thirty-minute delay while our skillful tech team worked to solve all the issues, we were successful in our goal, and people were able to watch the talks live from their respective locations worldwide simultaneously with in-person participants.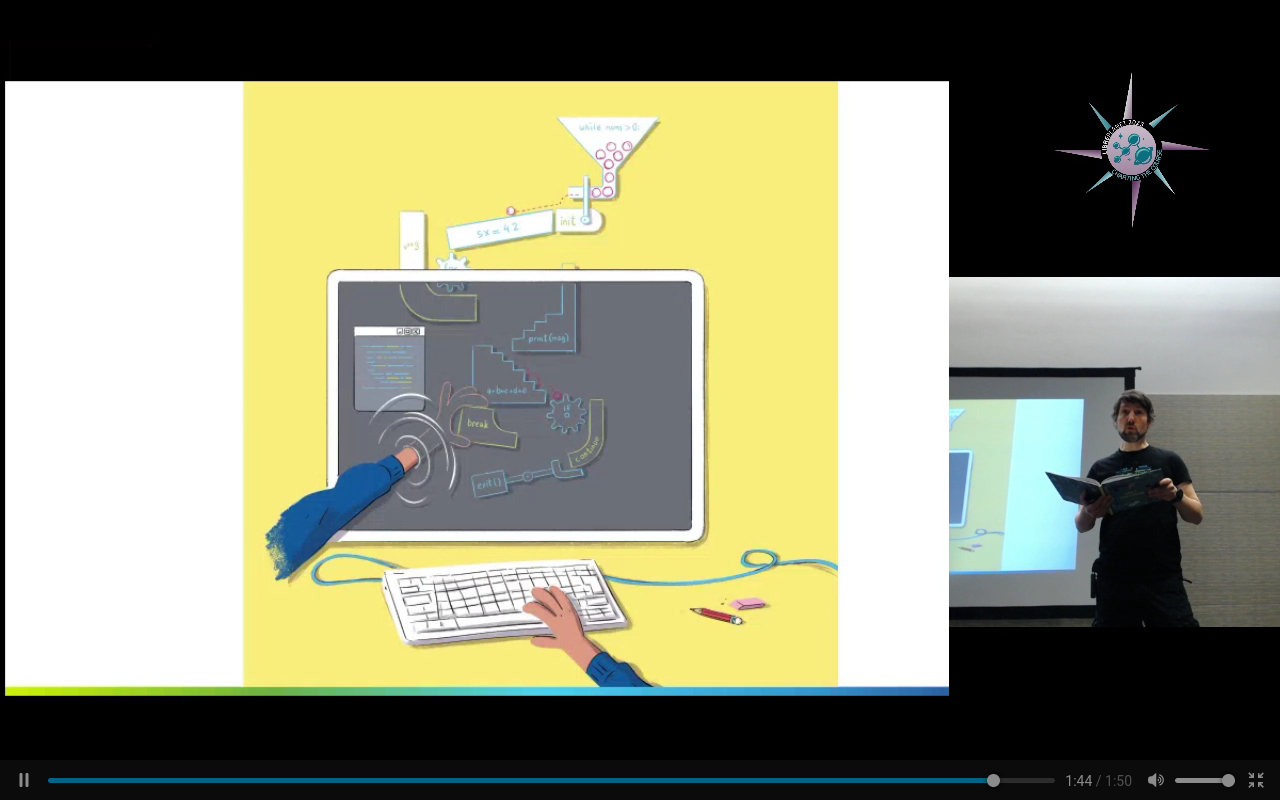 As there were many talks today, the morning started with, among other things, an exploration of free licensing trademarks, by Julian Daich, and "Libre software in Africa," by Benson Muite. We also had a live reading of the popular free software children's book Ada & Zangemann by Matthias Kirschner, which we're excited to say will be sold in the FSF Shop after LibrePlanet.
There is much to be said about the entire day, so make sure to keep an eye on the LibrePlanet Web site and Mediagoblin instance for the publication of the videos. Here are some of the day's further highlights.
Opening keynote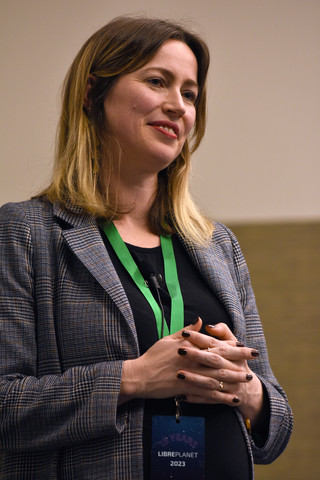 This year's opening keynote, titled "Education and the future of software freedom" was held by researcher and educator Erin Rose Glass of Social Paper. Glass's talk covered the role higher education plays in cultivating passive acceptance of broad forms of digital surveillance and control through popular educational technologies like learning management systems, word processing software, and test-taking tools, which are all pervasive within contemporary education. She presented the many obstacles teachers and students are facing today, while presenting a mixture of possible solutions. These included philosophical shifts as well as free software technological possibilities.
When asked by an audience member during the Q&A, "Why should we assume that the course will change [toward privacy and freedom]? [...] Why shouldn't I just be discouraged at this point?" Glass advised that we "invest in the positive example," saying that we need to "be like the sun, to [draw people in ...], because the wind method, the fear method, doesn't seem to work."
Lightning Talks
We had a variety of high-quality talks this year for our lightning talks series, presented both in person and online. A demo of free blogging software that utilizes GPG encryption, a demo of a free and uniquely designed group chat platform Quiet, a remote presentation of REUSE by Lina Ceballos of Free Software Foundation Europe, and a presentation by New Hampshire representative Eric Gallager are among some of the talks given this year.
Sick Codes presents the free software running on tractors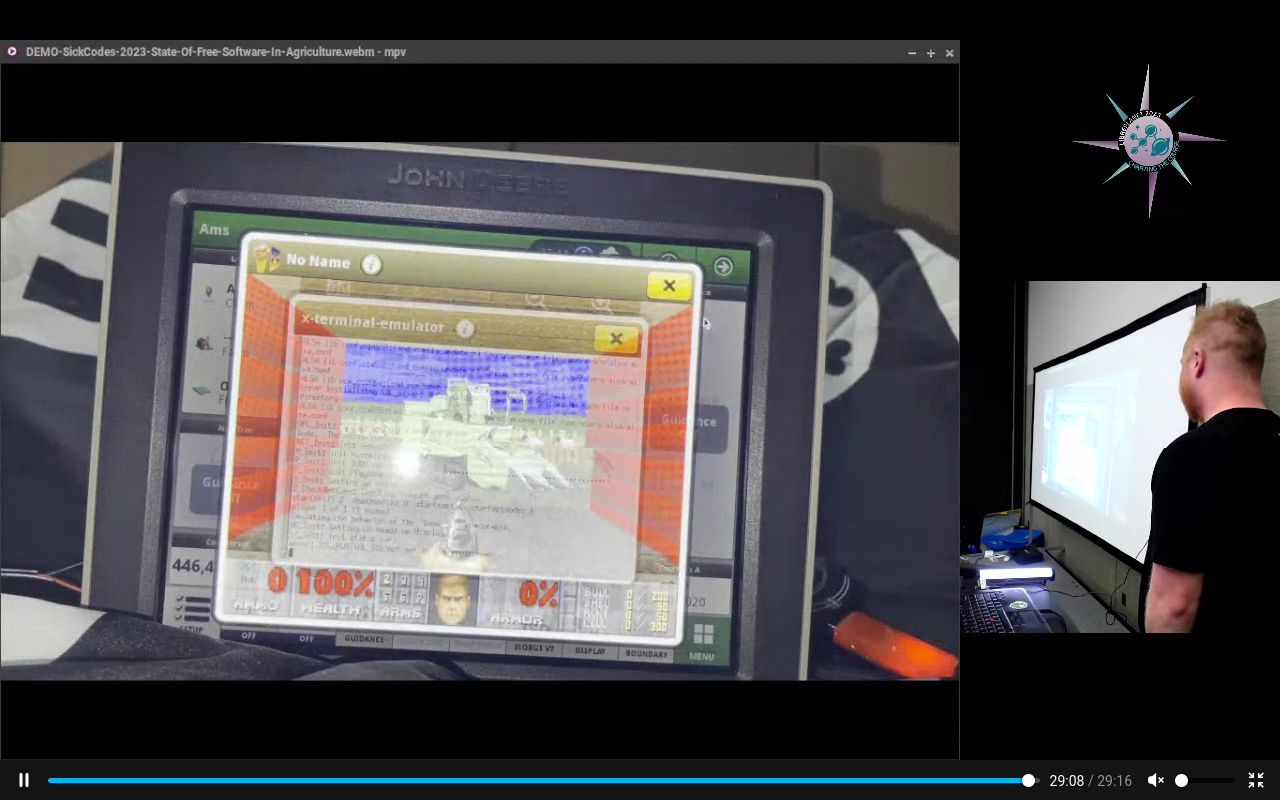 Later in the afternoon, after an interesting exploration of how to use data to better understand the impact of free software, by Do Yoon Kim, Australian hacker Sick Codes shared the results of his most recent research on free software in tractors. His talk started with the question "Is your food farmed with free software?" and explored the implications that software freedom has for farmers as well as agriculture in general. He demonstrated for the audience how much of the code running on John Deere tractors is free software, as well as how to brick and unbrick a tractor. After the talk, he allowed participants to play FreeDoom on his tractor interface.
The day concluded with a keynote by FSF's executive director Zoë Kooyman and president Geoffrey Knauth. Kooyman spoke about the various challenges ahead, such as contemporary threats to free, private communication, Service as a Software Substitute (SaaSS), proprietary software in self-driving cars, and the normalization of proctoring, which is "extremely malicious" to both students in the field of education, as well as for employees. She then went on to praise the free software community for being a small "group of individuals with a strong set of beliefs who are making a real difference." She acknowledged that there is hope on the course ahead, and that our audience is growing, in part, because "more and more people are questioning their relationship with technology."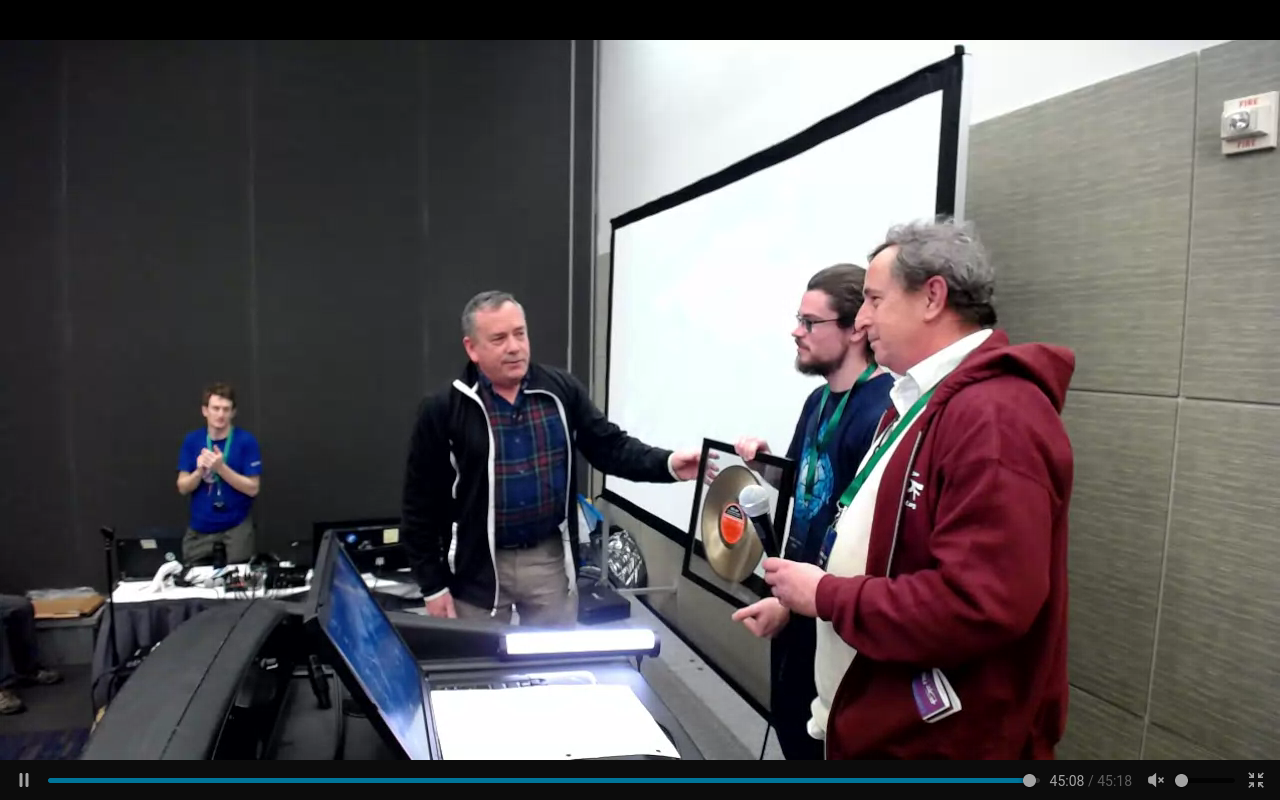 Knauth followed, sharing his love of the "very grassroots" feel of the free software movement and the LibrePlanet conference. He then proceeded to present the 2022 Free Software Awards. This year's recipients are Eli Zaretskii, winner of the Award for the Advancement of Free Software, Tad (aka SkewedZeppelin), who won the Award for Outstanding New Free Software Contributor, and GNU Jami, who had two in-person representatives receiving their award live in Boston, for Project of Social Benefit.
Coming Sunday
Sunday, we will have many more talks by many more fantastic speakers! The lineup includes updates on the FSF-supported project JShelter, a "Webextension that helps in returning the browser to users," and GNU Taler, free/libre payment system. In the afternoon, we have a discussion led by tech cooperative Agaric which starts from the provocative question, "Should developers get paid for their work?" Dr. Elizabeth Chamberlain is Sunday's closing keynote, presenting a talk titled "The future of the right to repair and free software."
We hope that you enjoyed the first day of this year's LibrePlanet as much as we have, and we are looking forward to see you again tomorrow.
Images Copyright © 2023 Free Software Foundation, Inc., licensed under Creative Commons Attribution 4.0 International license.