Push freedom even further at double the speed this week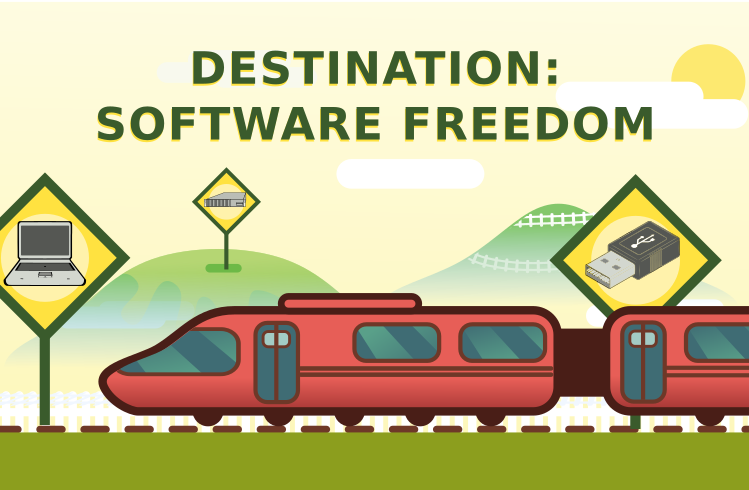 We made it! With your support, we quickly reached our summer fundraising goal. In fact, we surpassed it before our deadline. As of today, we've raised USD 51,798.
From now until just after the original deadline, July 19th, we are stretching our goal to add another USD 11,000 to the total, and this time, it will be matched! Thanks to a generous offer from Cristian Frâncu, Andreea Frâncu, and Andrei Pitis, we can push freedom forward even further this summer when you support us in this last week.
Adding another USD 22,000 to our goal can make a great difference for the end of a challenging financial year. For instance, with your donations, we can invest more into the Ladder campaign materials, invest in the work on an ebook reader, allocate funds to host a one-day conference on a particular free software issue, such as software patents, or do necessary research into GitHub Copilot and its relation to free software licensed work.
As of today, any financial contribution you can spare is doubled! Your support helps our advocacy and education campaigns, the tech team, and our important licensing work. For only USD 10 a month (USD 5 if you are a student), you can join us as an FSF associate member. New members are critical to the cause, and form a solid foundation for the free software movement. Even better, if you can pay the annual fee of USD 120 up front, that much more will be matched!
In the meantime, spreading the word is just as important: please take a moment to publicly bring attention to the need for free software! Use the hashtag #UserFreedom, and share this message and others to build even more support this summer.
Did you know that you can also gift a membership to someone? It is the perfect way to help someone you care about to get a step closer to freedom, and it will count towards our summer stretch goal! We really appreciate it, and we'll be sure to put your hard-earned money to good use.
Photo Copyright © 2021 Free Software Foundation, Inc., licensed under Creative Commons Attribution 4.0 International license.