Software Freedom Day 2009
by deborah Contributions
—

Published on

Sep 22, 2009 03:35 PM
Thanks for coming to celebrate with us!
by Deborah Nicholson
Membership Coordinator
It was a nice, crisp fall day outside, but we had a great group of people gathered inside at Encuentro 5 in Chinatown for Boston's Software Freedom Day. There were talks on hacking your blog, women in free software, free software on mobile devices, and how free software economics works.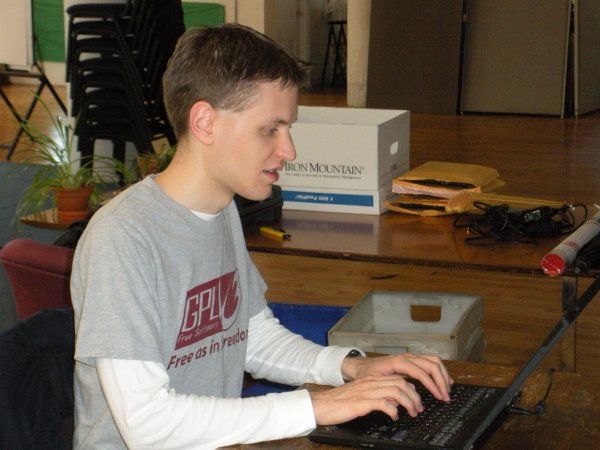 Here we see the FSF's licensing guru, Brett Smith, exercising his extremely speedy typing skills (QWERTY or Dvorak? You never know with Brett...) at the registration table.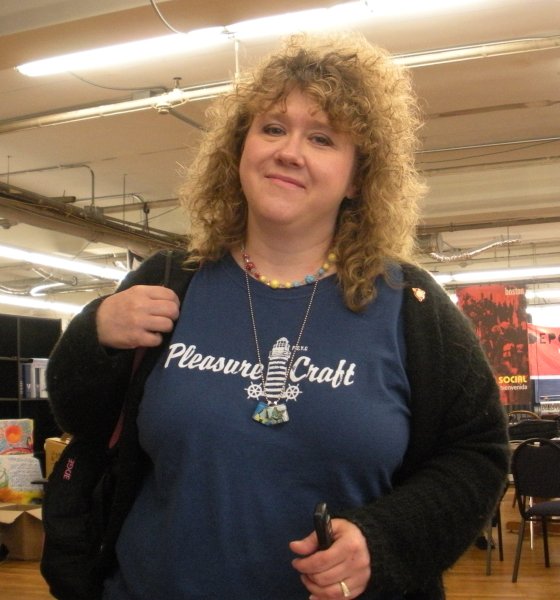 Felicia was our first brand-new member of the day -- welcome aboard! (If Felicia's example inspires you, then you can sign yourself up online here.)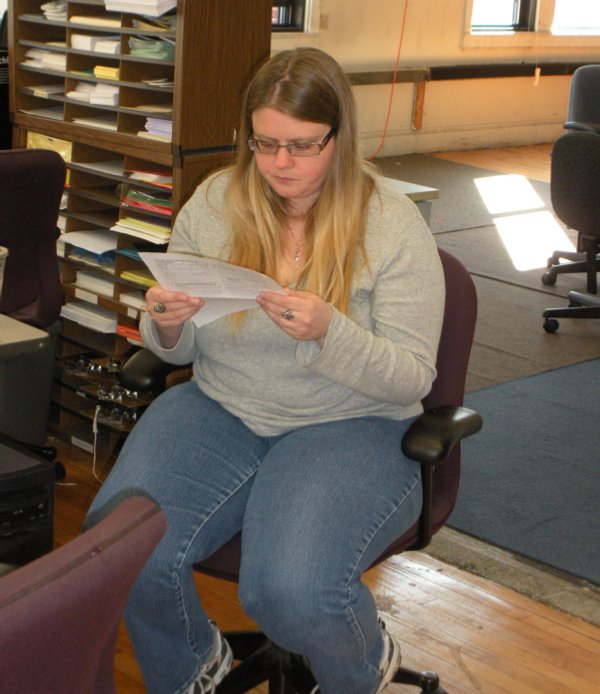 We caught Leslie Hawthorn engrossed, reading something -- later on she was part of the evening's mini-summit on Women in Free Software, held in the FSF offices just a few blocks away.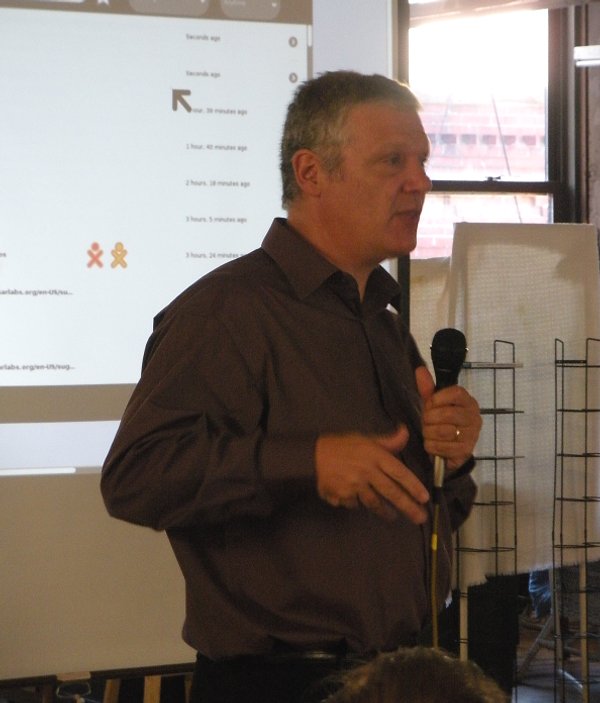 Walter Bender took us all on a whirlwind tour of the multi-layered Turtle program for kids, which is part of the Sugar operating system, and announced the good news that the portable version, called "Sugar on a Stick," can now run on top of Trisquel, a fully free GNU/Linux distribution.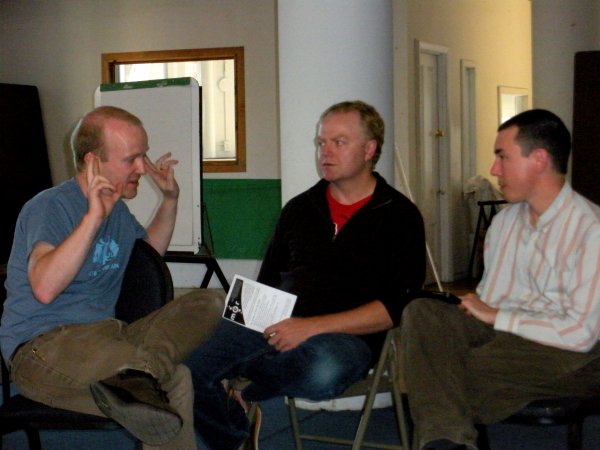 FSF senior sysadmin Ward Vandewege breaks out the air quotes while talking with FSF executive director Peter Brown, and erstwhile volunteer Matthew Craig.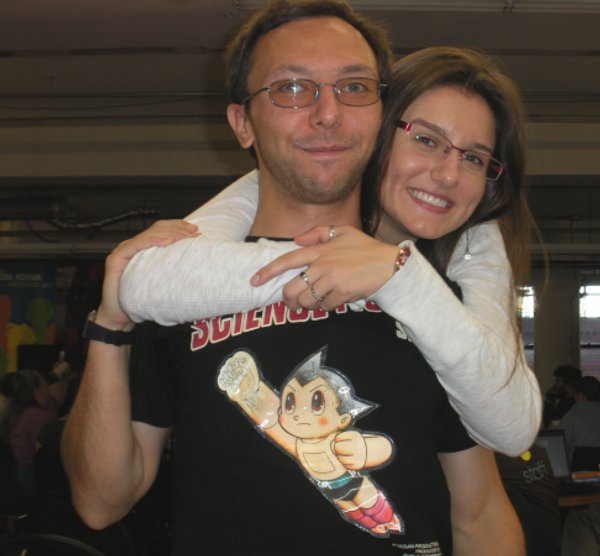 Sysadmin intern Bernie Innocenti was clearly missed by this past summer's campaigns intern, Adelaida McIntire, who came back to Boston just for the day's festivities.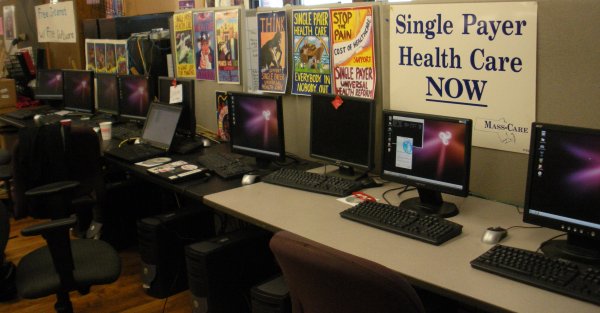 Encuentro 5's bank of computers was available for anyone who wanted to check out Trisquel.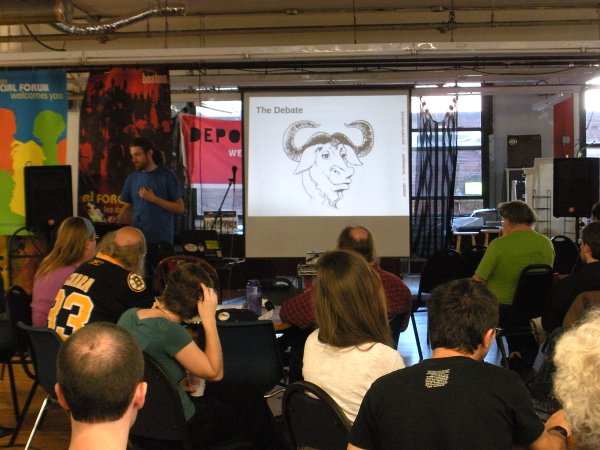 FSF board member Mako Hill allows the crowd to contemplate the GNU for a moment while he gets ready to show us another anti-feature; aka an unwanted feature that some proprietary software vendors use to get extra money out of their customers -- while thwarting their freedom.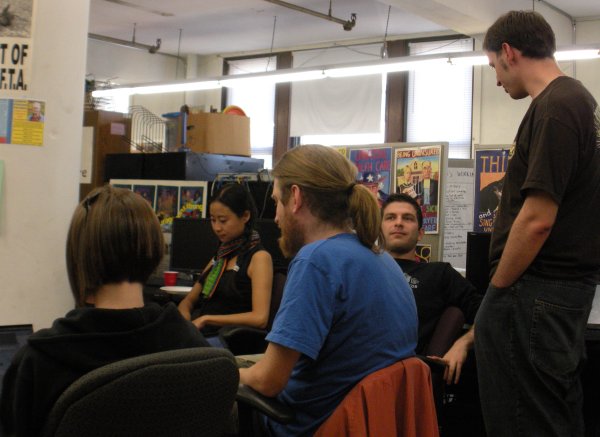 In between speeches, people are pondering software freedom and/or waiting until the pizza line is a bit shorter.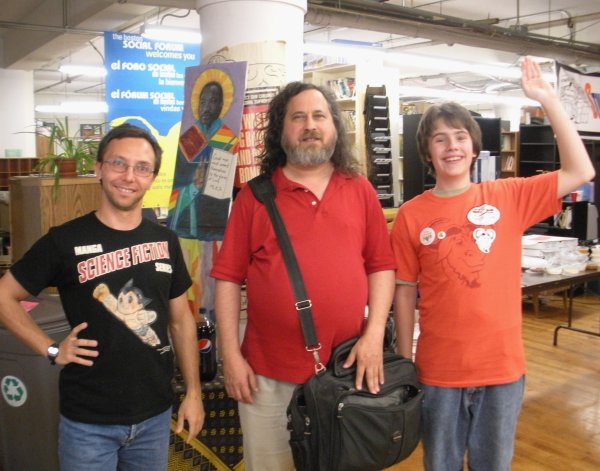 RMS came by in the afternoon to cover what's on the horizon for user freedom. Here he stands with Bernie and Harley.
This was a great day in Boston! We'll have more media up from our event, including some audio and video, in the next few weeks. I hope your Software Freedom Day was as inspiring as ours.
See you next year!
P.S. Thanks so much to FSF directory maintainer Kelly Hopkins for taking pictures!