Photos and numbers from LibrePlanet
The involvement and energy of the free software community make LibrePlanet what it is: brilliant and passionate people coming together around software freedom, drinking lots of coffee and forging the future of our movement. This year, we particularly appreciated your contributions to the theme of "Commit Change": a focus on making connections to other movements and building diversity within free software.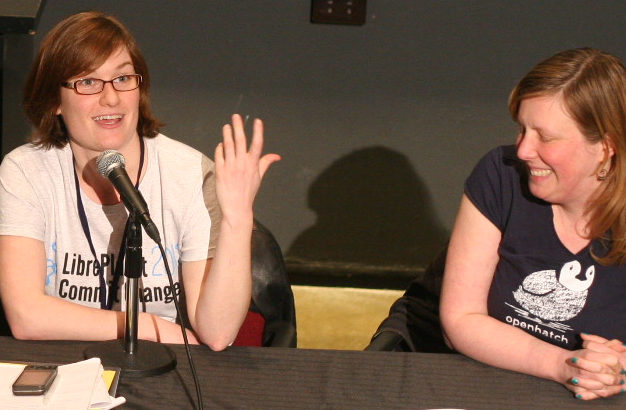 We've posted our photographs from the conference on a wiki page. If you have photos from the conference, please link to them from the page! Soon we'll also have video of the sessions hosted on our site.
To celebrate the success of the conference, we'd like to share some numbers:
More than 150 attendees
35 talks, workshops and events
40% of sessions with at least one woman presenter (a new record for LibrePlanet!)
30% of speakers were women
More than 29 hours of video
Pretty successful live streaming in all three rooms, using only free software
16 lightning talks delivered by passionate attendees
64 LibrePlanet 2013 t-shirts sold or given to volunteers (Missed your chance to get one? Pick one up at our shop.)
If you can, please make a donation to the FSF to help us recoup the cost of the conference. If you aren't currently a member, the best way to do this is to join, because then you'll get gratis admission to the next LibrePlanet!
Last but not least, we'd like to thank all of the dedicated volunteers that made this conference possible. Much appreciation to Robert Call, Tristan Chambers, George Chriss, Ian Denhardt, Andrew Engelbrecht, Patrick Engelman, Luke Faraone, Daniel Fitzmartin, Ian Gustafson, Michael Haendler, Brendan Kidwell, Jon Littlefield, Stan Livitski, Peter Loshin, Adelaida McIntire, Emily O'Leary, Martin Owens, Ash Saraga, Jason Self, Kyle Walters and Chris Williams. It was fun and rewarding to have your help with the conference.
That's all for now! We hope that you'll join us at LibrePlanet 2014 (spoiler alert: we're going to announce the theme soon).