Now's your chance to submit your session and nominations
LibrePlanet Call for Sessions ends Friday, November 17, and the deadline for Free Software Awards nominations is Tuesday, November 21.
Awards and Call for Sessions reminder
Submissions are now closed. Please consider registering for LibrePlanet as a participant.
We thought one last reminder just might be that last push you need to bring pen to paper (or finger to keyboard!) and submit your session idea, and to nominate a person or project that's important to you for one of the three Free Software Awards.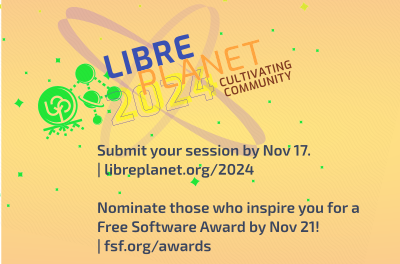 Call for Sessions
The Call for Sessions for LibrePlanet 2024: Cultivating Community will close on Friday, November 17, 12:00 EST (17:00 UTC). We received fantastic submissions but are always delighted to receive more, especially for the following tracks: licensing, security, education, the Freedom Ladder, and hardware. Please check carefully if you actually submitted your session or if you only drafted a submission. The LibrePlanet committee will only review submitted sessions. Submit now!
Free Software Awards
We are still soliciting Free Software Award nominations, which are presented annually at LibrePlanet. Show your favorite free software community members that you see the value in their work by nominating them for an award in one of our three award categories. The Free Software Awards nominations will close on Tuesday, November 21, 23:59 EST (04:59 UTC).
Support LibrePlanet by becoming an exhibitor or sponsor
LibrePlanet is organized by the FSF, a 501(c)(3) charity. The conference is made possible thanks to charitable sponsors and exhibitors who want to be at the juncture of ethical technology, a vibrant community, and the future generation of free software specialists. Thanks to conference sponsors, we can offer free admission to students, a welcoming event space, social activities, and refreshments for attendees. Support from generous sponsors also enables LibrePlanet to run on free software infrastructure, including livestreaming and session recordings.
Early bird pricing for exhibitors is happening now, and will be available until February 8, 2024. Nonprofits and individual projects are eligible for a discounted exhibitors price. Learn more in our sponsoring and exhibitor prospectus or simply email campaigns@fsf.org.
We hope to see you at LibrePlanet 2024: Cultivating Community!
Illustration Copyright © 2023 Free Software Foundation, Inc., licensed under Creative Commons Attribution 4.0 International license.