Looking back at LibrePlanet 2020: Freeing the future together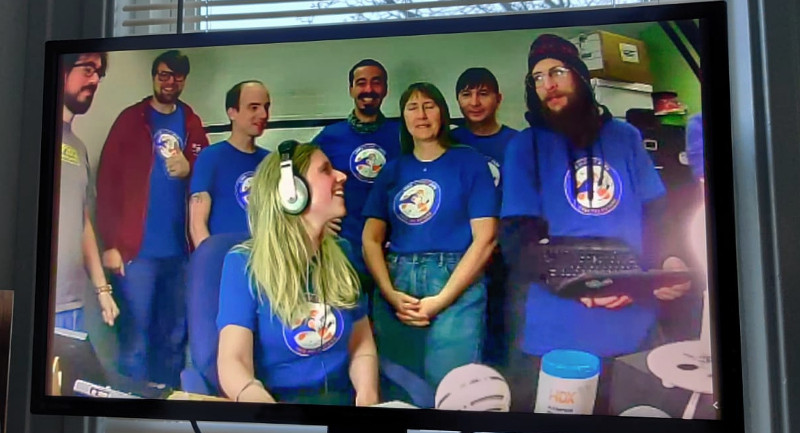 On March 14 and 15, the Free Software Foundation (FSF) held LibrePlanet 2020: Free the Future online. The virtual edition of LibrePlanet was nothing short of a success, and it was quite a journey to get there.
Looking back to a week before the conference, we had an incredible lineup, exciting plans, and more new program elements than we've ever had before. With a new logo designed by campaigns intern Valessio Brito, a refresh to the LibrePlanet 2020 Web site, renewed focus on using the LibrePlanet wiki to collaborate, and with a new home at the Back Bay Events Center, we were ready to receive hundreds of free software supporters in Boston for another successful conference. And then everything changed.
Our in-person event suffered the consequences of the global COVID-19 pandemic, forcing us to make the difficult decision of bringing LibrePlanet 2020 online in order to protect our supporters, staff, and all the many interrelated communities. There was no time to pause and mourn: instead, the FSF team put our heads together fast and charted a new direction.
Within the scope of five days, we were able to move the conference from an in-person experience to a live streaming event, thanks to the heroic efforts of our talented tech team, our volunteers, and the flexibility and cooperation of our scheduled speakers, even some previously unscheduled ones. We hosted three sessions at a time for both days of the conference, bringing viewers thirty-five streamed talks from forty-five speakers, as well as eight lightning talks. Technical difficulties were few and far between, and when one of our speakers asked how many nations were tuning in, within the span of eighteen seconds, twelve countries were identified.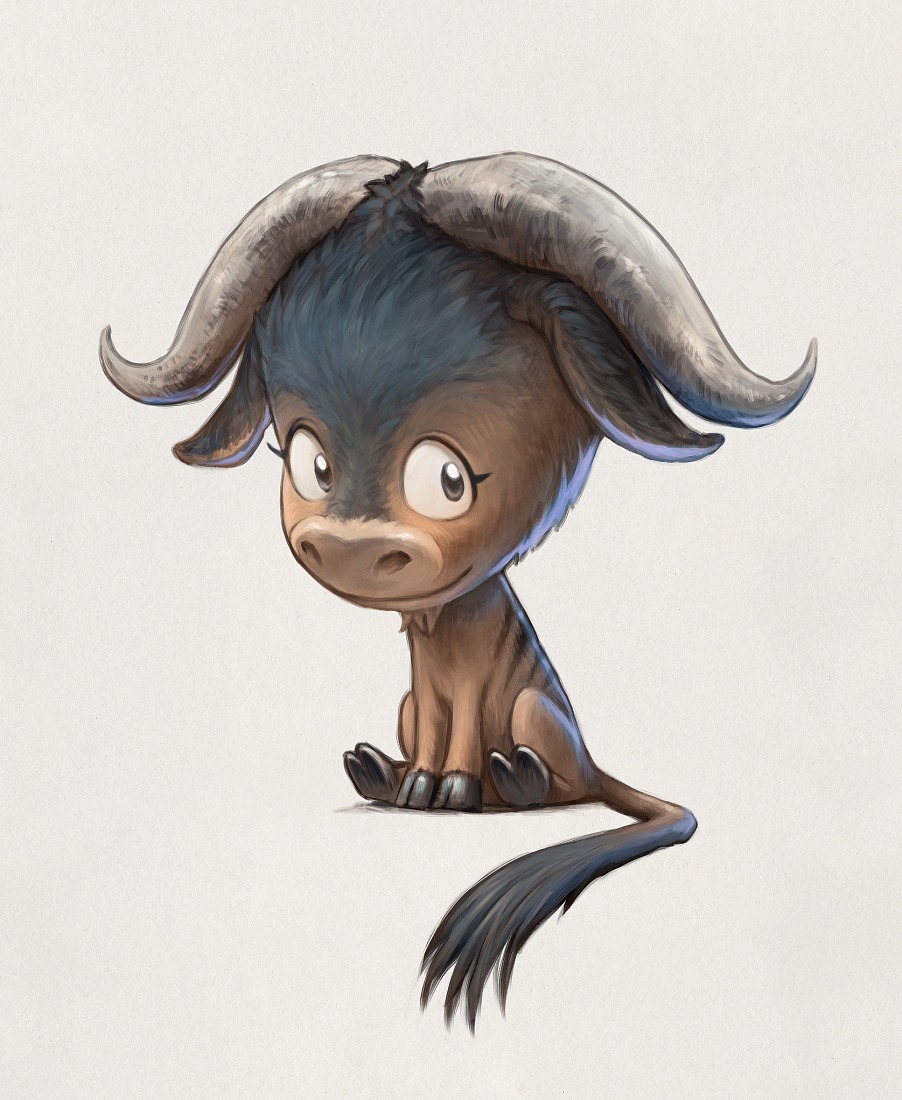 Hosting a fully virtual event was new for everyone involved, and on Saturday, we were happy to find out that everyone's efforts of the week leading into the conference paid off. We hosted our own Jitsi instance for remote speakers, using a screen capture of the video call to stream out to the world via Gstreamer and Icecast. Speakers all logged in during the week for testing, sometimes multiple times, to work through any technical difficulties, and ensure a smooth experience for viewing. Some speakers prerecorded their sessions and others joined live, but nearly all of them joined in the Freenode IRC channels for their Q&A sessions, which created a positive interactive social experience.
We will post a more detailed technical explanation, and some advice for other conference organizers based on our experience, soon. Our tech team is currently processing videos of all talks, and we will publish them for viewing in the conference video library. Some additional speaker resources have been posted on the LibrePlanet wiki. For the first time, by popular demand, we are also working on getting the audiostreams for the talks up via RSS feed, so you can discover talks or catch the ones you missed in your favorite podcasting app or RSS reader.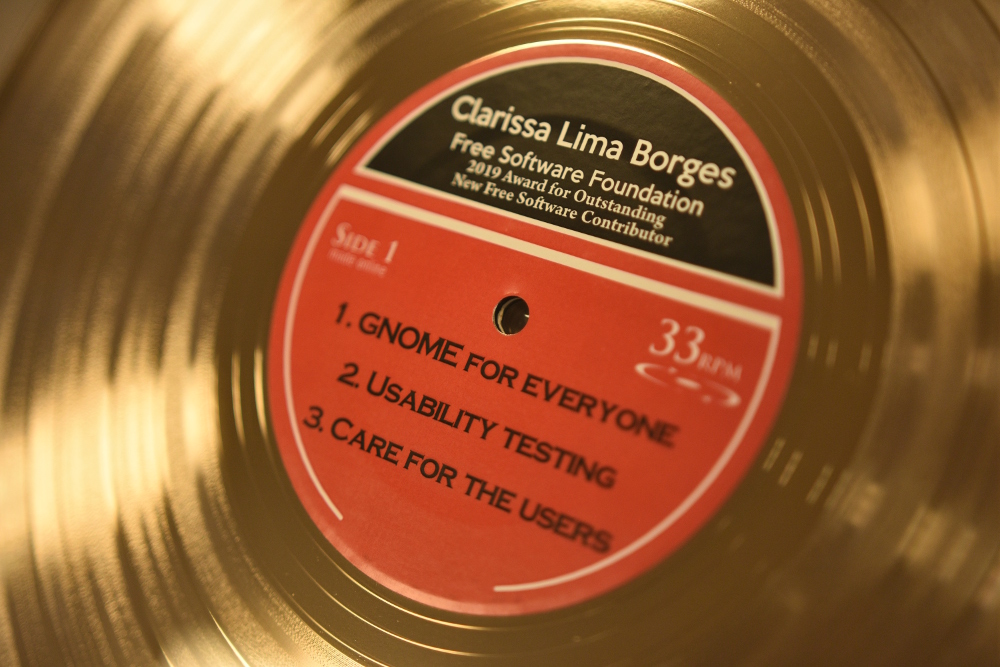 The winners of the 2019 Free Software Awards all accepted their awards by prerecorded video message. As the ceremony was conducted virtually this year, each winner selected the person to present them the award. Jim Meyering, who received the Award for the Advancement of Free Software, was virtually handed his award by founder of the GNU Project and the FSF, Richard Stallman, and sent in his acceptance speech from the UK. Clarissa Lima Borges, a young Brazilian developer, was digitally awarded the golden record for the new Award for Outstanding New Free Software Contributor by Alexandre Oliva, acting co-president of the FSF. Acting co-president and executive director John Sullivan presented the Award for Projects of Social Benefit, which went to Let's Encrypt, a nonprofit certificate authority that hopes to make encrypted Web traffic the default state of the entire Internet.
On day two, another diverse group of speakers called in to discuss the future of free software, casting light on the topic from their own individual fields of expertise. Licensing, government integration, community building, and other free software topics were discussed. Our speakers work with, and advocate for, free software in many different disciplines. We value seeing people with a wide range of perspectives commit to the core principles of free software. Over the weekend, we noticed many sessions highlighting how a movement like free software is carried by the strength of people who believe change is necessary and achievable. Speakers discussed the developments of federated social media and a decentralized Web, teaching free software to children, engaging young developers, community healing, as well as different applications of "public invention".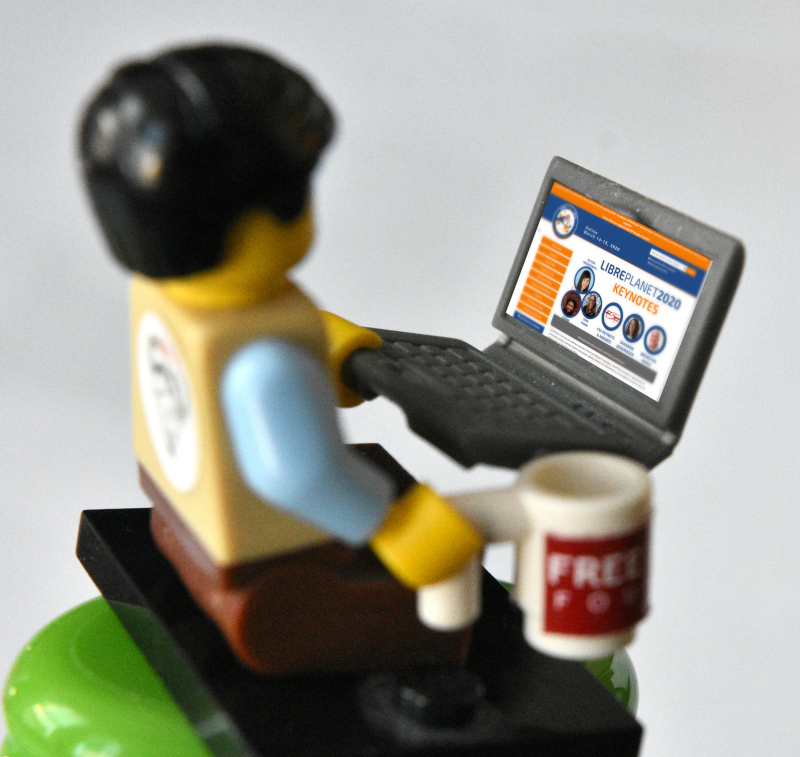 This focus on community and collaboration is a core idea behind the LibrePlanet network and conference, and the FSF has been working on plans to get the LibrePlanet community more involved in organizational aspects of the conference in the future, including session selection. This resonates with FSF executive director John Sullivan's announcement of our plans to create a working group documenting the obstacles facing free communication tools like Jitsi, which we used for the livestream, and how to encourage our friends and loved ones to turn away from chat and conferencing tools that do not respect their freedom. We want the world to be able to host virtual conferences like LibrePlanet without needing the technical expertise of an organization like the FSF behind them. With your help, we aim to make it as easy as getting some friends and participants together and pressing a button.
LibrePlanet 2020: Free the Future highlighted the capacity this community has to empower each other. We are so grateful for the support we received from our speakers, our viewers, IRC participants, associate members, and everyone who recognized the challenge we have been confronted with and decided to donate, as well as our volunteers, and exhibitors and sponsors. All of this support and enthusiasm made the disappointment of having to cancel the in-person event fade quickly, in return for much needed excitement to work tirelessly on this new challenge of streaming the entire conference online.
We're so proud to have demonstrated what free software is capable of. It would not have been possible without the extra work and positive responses from our speakers, the flexibility and commitment of our volunteers, or without the excitement, patience, and enthusiasm of our online participants. We look forward to seeing you again, in person next year, for LibrePlanet 2021!
Photo credits: Ruben Rodriguez, © 2020, Free Software Foundation, Inc. Licensed under Creative Commons Attribution 4.0 International license.
"GNUess" by David Revoy. Creative Commons Attribution 4.0 International license.