LibrePlanet forever! Watch sessions from 2016 online
We are thrilled to announce that recordings and slides from LibrePlanet 2016 sessions are now available online!
That's right, you can now watch the keynote conversation with NSA whistleblower Edward Snowden and 32 more sessions from LibrePlanet 2016: Fork the System on the Free Software Foundation's (FSF) GNU MediaGoblin instance, including: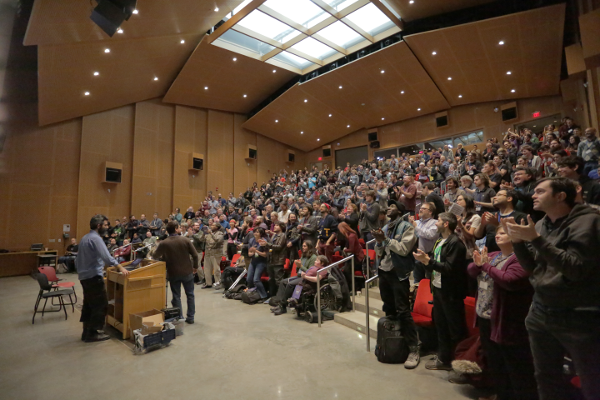 This work by Kori Feener is licensed under a Creative Commons Attribution-ShareAlike 4.0 International License.
Based on a work at https://u.fsf.org/1t8.
Recorded talks include Free software, free society** by Allison Randal, current and past director of multiple foundations in the world of free software; Companies, free software, and you by Karen Sandler, executive director of the Software Freedom Conservancy; The Free Software Awards with a talk by Richard Stallman, founder of the Free Software Foundation; Restore online freedom! by Mike Gerwitz, GNU Project volunteer; and Inessential weirdnesses in free software*** by Sumana Harihareswara, founder of Changeset Consulting.
The LibrePlanet 2016 program has links to all recorded talks and their accompanying slides. All sessions recorded for LibrePlanet 2016 are now available – that's over 25 hours of free software ideas! This year, we were able to sponsor travel costs for eight LibrePlanet speakers and two attendees – help others contribute to LibrePlanet 2017 by making a donation to the LibrePlanet scholarship fund.
You can watch many more FSF videos (and some photos, too) on media.libreplanet.org, our instance of the publishing platform GNU MediaGoblin. GNU MediaGoblin is a free software media publishing platform that is a decentralized replacement to sites like YouTube and Flickr. You can support the project with a donation via the FSF.
Live streaming and recordings of LibrePlanet were made possible by our tech team and their volunteers, including intern David Testé, who wrote about his experience creating the fully free streaming software package, ABYSS, that was used to stream LibrePlanet 2016 live.
Enjoy the videos – and perhaps we'll see you again at LibrePlanet 2017!