LibrePlanet forever! Watch five sessions from 2015 online
We're happy to announce that recordings of five sessions from LibrePlanet 2015 are now online. Whether you couldn't make it to the conference and are watching these for the first time, or attended and want to see them again, we hope you enjoy.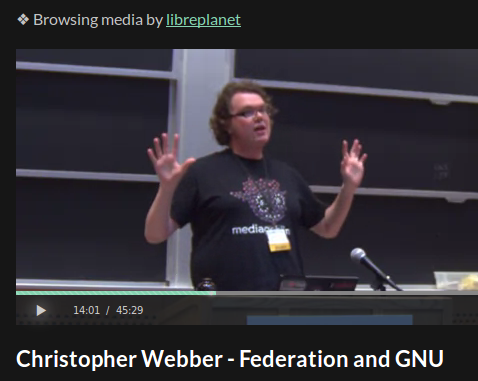 Want more info about a session? Full descriptions are up on the LibrePlanet 2015 Web site.
There are many more videos on their way from the 2015 conference; we wish we could have them all up today, but some are still being prepared. All published videos are hosted on , our instance of the publishing platform GNU MediaGoblin, which also includes videos from LibrePlanet 2014 and 2013.
Finally, we want to say thanks again to all the volunteers who worked hard designing and running our free software streaming and recording system and transcoding and editing the videos. You keep LibrePlanet spinning!