LibrePlanet Day 1, technology, politics, workshops, and winners
by molly Contributions
—

Published on

Mar 26, 2017 04:26 PM
LibrePlanet started as the annual meeting of the Free Software Foundation (FSF) membership. Now, that meeting is just one part of a two-day conference that brings together hundreds of new and longtime members of the free software community from all parts of the world.
This year kicked off on Saturday, March 25th, with a keynote speech by Kade Crockford, director of the Technology for Liberty Project at the American Civil Liberties Union of Massachusetts. Their talk emphasized the relationship between politics and technology&emdash;politics threaten technology; technology threatens politics. A video of the talk is available now. Other videos of talks are now posted or will be available shortly.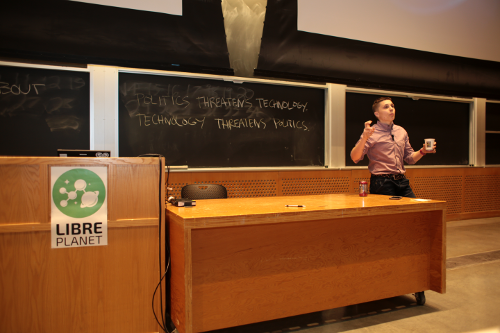 FSF staff, members of the MIT Student Information Processing Board (SIPB) gathered at MIT's Stata Center in Cambridge, MA early in the morning to set up streaming and recording equipment, hang signs, decorate, and even have a little fun.
Throughout the day, there were 24 talks, covering a wide range of topics relating to software freedom and user freedom, tackling the ways technology and technologists interact with society and the responsibilities we have to ourselves and each other. Some people delivered their first talk (ever!) at a conference, and many veteran speakers returned to LibrePlanet.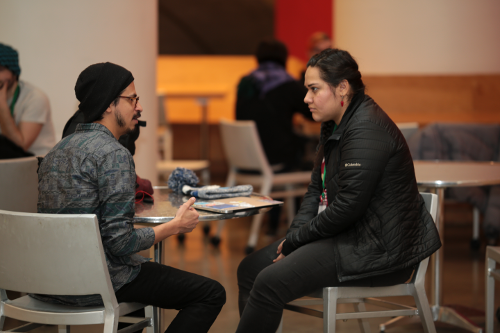 There were three workshops: a non-technical introduction and how-to on security and operations, an introduction to Ansible (a free software tool for IT automation), and a reproducible builds workshop by three members of the Reproducible Builds project.
At the end of the day, Richard Stallman announced the winners of the 2016 Free Software Awards, celebrating an individual's ongoing commitment to user freedom (Award for the Advancement of Free Software) and the work of a free software project that has created significant social good (the Award for Projects of Social Benefit).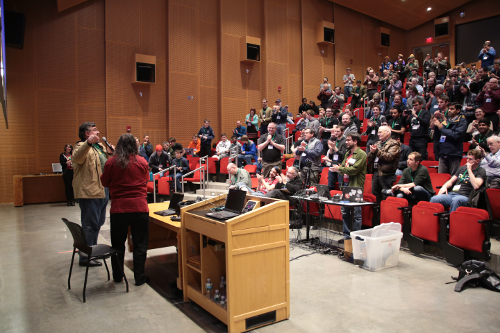 Alexandre Oliva, free software hacker, contributor, and activist was the recipient of the individual award. Conor Schaefer represented Freedom of the Press Foundation, accepting the award for their work on SecureDrop.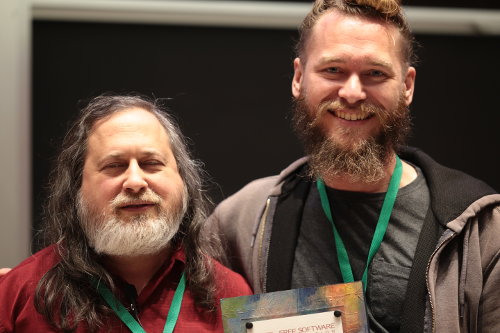 Photos by the Free Software Foundation and under a Creative Commons 3.0 Attribution License.