LibrePlanet CFS closing very soon. Submit today!
Final call for sessions: Submit by November 28 at 10:00 EST (15:00 UTC) for consideration.
Last call to submit your LP session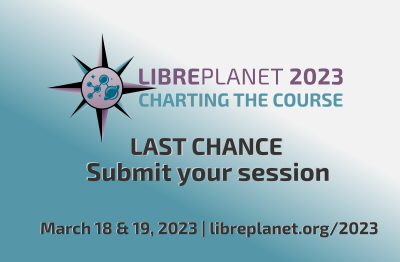 Our Thanksgiving gift: four more days to submit your session for LibrePlanet 2023! The call for sessions will now close on Monday, November 28, 2022, at 10:00 EST (15:00 UTC). We thought one last reminder, and one more weekend, just might be the last push you need to bring pen to paper (or finger to keyboard!) and submit your idea for a presentation, workshop, panel, or instructional video at LibrePlanet 2023: Charting the Course. The event will be held on March 18 and 19, 2023 and will be offered both in person and online. Sessions may be conducted either in person or remotely.
Also, registration for the conference will open soon. If you aren't already, now is a good time to become an FSF member. You would not only help us reach our fundraising goal to keep the FSF strong in our mission to protect user freedom, but would also receive a this year's special gift and gratis entrance to LibrePlanet 2023 as one of our member benefits.
If you would like to learn more about the theme and the kinds of sessions we would like to see, please have a look at our previous call for sessions blog post. As always, if you have questions about your session, we'd be happy to answer them via email at campaigns@fsf.org. You will have a chance to make changes to your submission later if you feel it needs adjusting, but you must submit before the deadline to guarantee its review. Remember, LibrePlanet is for all types of stakeholders -- hobbyists, professionals, developers, law professionals, and tinkerers -- so please do not hesitate to submit from your unique perspective.
Free Software Awards nominations open until November 30
We are still soliciting Free Software Award nominations, which are presented annually at LibrePlanet. Show your favorite free software community members that you see the value in their work by nominating them for an award in one of our three award categories. Don't assume that someone else will nominate the same nominees you have in mind -- plus, the committee does take into account the amount of times a project or person is nominated.
Support LibrePlanet by becoming an exhibitor or sponsor
LibrePlanet is organized by the FSF, a 501(c)(3) charity. Your contribution allows us to create a truly valuable event for many people all over the globe, and allows us to livestream to an audience world-wide.
We also offer unique opportunities for businesses and other organizations to connect to a community that is dedicated to free software. For more information, you can contact campaigns@fsf.org, and download the prospectus from the LibrePlanet event site. For information on how your company can be represented in our lively and centrally located exhibit hall, or to further sponsor the LibrePlanet conference, please send an email to campaigns@fsf.org.
I hope to see you at LibrePlanet 2023: Charting the Course!
Image Copyright © 2022, Free Software Foundation, Inc., Licensed under Creative Commons Attribution 4.0 International license.