LibrePlanet 2022 will be held March 19-20, CFS extended to December 15th
Have you submitted a talk for LibrePlanet 2022 yet? For those unsure if they could make it to the virtual event, we have now set the dates: March 19 and 20, 2022! We have also extended the Call for Sessions (CfS) until Wednesday, December 15, 2021 at 10:00 EST (15:00 UTC). This gives us time to get a little more organized, and more importantly, gives you the chance to make sure you're a part of LibrePlanet 2022: Living Liberation!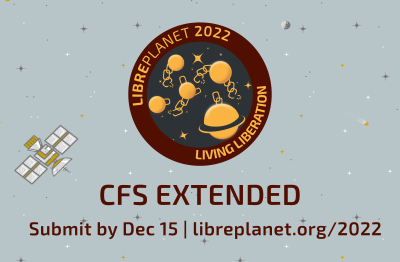 This year's LibrePlanet is organized by the Free Software Foundation (FSF) in conjunction with the LibrePlanet committee, which consists of a team of excited volunteers, and we all look forward to hosting an amazing conference again this year. One of our committee members, Paul Sutton, described LibrePlanet as "an opportunity to meet and interact with other people with both a technical and non technical background, the talks were varied which meant there is usually something for everyone. People are able to share their experiences of what works. Another important thing is that LibrePlanet is open to different age groups so there is equal opportunity for both younger people and older people to give talks."
General registration will open soon! Remember, FSF associate members get first access to special LibrePlanet events and gadgets. We are looking forward to presenting a fun, interactive, and varied LibrePlanet schedule with a little bit of everything, so if you have a nice idea, submit your session regardless of your level of experience or perceived expertise!
Need help preparing your talk proposal?
If you need advice or encouragement as your prepare your talk proposal, we're here to help! Join the #libreplanet IRC channel on Libera.Chat Thursdays from 13:00 to 14:00 EST (18:00 UTC) for LibrePlanet Call for Sessions office hours with FSF staff and LibrePlanet committee members.
FSF Award nominations extended until December 15
We are also still open to receive Free Software Award nominations. It's time for us to show those community members and projects that we appreciate their vital work, by nominating them for an award in one of three categories: the Award for the Advancement of Free Software, the Award for Projects of Social Benefit, or the Award for Outstanding New Free Software Contributor. Don't assume that someone else will nominate your chosen nominees -- the committee does take into account the amount of times a project or person is nominated.
We are excited to read about your presentations, and we look forward to learning with you on March 19 and 20, for LibrePlanet 2022!
Illustration Copyright © 2021 Free Software Foundation, Inc., licensed under Creative Commons Attribution 4.0 International license.