Let's get excited: The LibrePlanet 2021 schedule is here!
LibrePlanet 2021: "Empowering Users" confirmed sessions have been published at libreplanet.org/2021!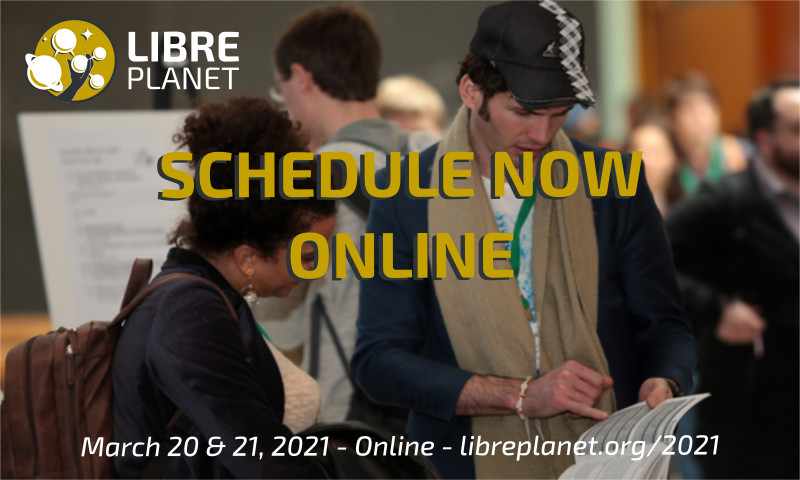 Can you believe we're only three weeks away from another inspiring and exciting edition of LibrePlanet? On March 20th and 21st, 2021, free software supporters from all over the world will log in to share knowledge and experiences, and to socialize with others within the free software community.
We've been overwhelmed with support for the upcoming online edition of the conference, first with a record number of speaker submissions, and now with a flood of registrations. Even if attendance is gratis, it's important that you register in advance, in order to help us prepare for the number of guests we'll be welcoming.
Register today! Free Software Foundation (FSF) associate members and students attend gratis at the Supporter level.
As you're probably aware, LibrePlanet 2021 is organized by the FSF. For our second online-only edition, we'll be delving into the theme of "Empowering Users." Our work has been motivated by seeing people help others escape the grip of proprietary tools, particularly those that embrace corporate control and government bulk surveillance. Movements like this help build a future that empowers users and their communities, rather than the harmful business models of monopolistic proprietary software companies.
In addition to the opening keynote by Julia Reda, the Sunday opening keynote by Nadya Peek, and the closing keynote by Nathan Freitas, Sunday afternoon will feature a keynote by FSF president Geoff Knauth and executive director John Sullivan. Beyond this, the LibrePlanet 2021 schedule delivers a wide range of presentations carefully selected by FSF staff and by our newly established LibrePlanet community committee. We have so many talks we absolutely can't wait to see, and we think you'll feel the same way! You can now start planning your itinerary. Make sure to have a look at these highlights:
We will also include a lightning talk session. You can now submit a five-minute pre-recorded video about a free software related subject of your choice, to be featured during the event. We encourage you to submit your talk in advance: you can upload your video today by using the instructions on the LibrePlanet wiki.
Plus, we will receive an update from the High Priority Projects (HPP) list committee.
The LibrePlanet 2021 team is working hard to create an interactive, fun, and social experience for the event by using multiple channels, like IRC, Mumble, Jitsi, and BigBlueButton. The tech team is also working hard on a fork of the last free version of WorkAdventure, so that we can mimic a real-life exhibit hall and hallway. Do you want to socialize with people using one of these channels, or do you have a Birds of a Feather (BoF) session in mind? Register for the event, and use the LibrePlanet wiki to connect to other attendees!
LibrePlanet needs volunteers -- maybe you!
LibrePlanet is still looking for volunteers. The conference is only possible thanks to dozens of volunteers who help prepare for and run the conference, even when it is online. Volunteering is a great way to meet fellow community members and contribute to LibrePlanet. If you are interested in volunteering for LibrePlanet 2021, email resources@fsf.org.
Seeking sponsors
LibrePlanet cannot exist without the support of the community. If you or your company would like to sponsor or exhibit at LibrePlanet, please email resources@fsf.org.
Your support will help sustain, energize, and inspire the free software community. Sponsoring provides you with a unique opportunity to demonstrate your commitment to free software, and engage with hundreds of legal and policy experts, developers, students, activists, free software and technology enthusiasts, and potential employees with your organization via our newly designed virtual exhibitor hall.
Finally, we hope you'll help us spread the word about LibrePlanet 2021: please blog or microblog to let people know that you'll be there, using the hashtag #libreplanet.
See you in a few weeks at LibrePlanet!
Photo by Kori Feener. Copyright © 2018 Free Software Foundation, Inc., licensed under CC-BY-SA 4.0.