Join LibrePlanet 2023 behind the scenes as a volunteer
LibrePlanet 2023 is coming very soon and we need your help to make the world's premier gathering of free software enthusiasts a success. LibrePlanet 2023 will be held March 18-19, 2023 both online and in person in Boston, MA. It will be the fifteenth edition of the conference that brings free software advocates together from around the globe, and you can be an important part of this celebration.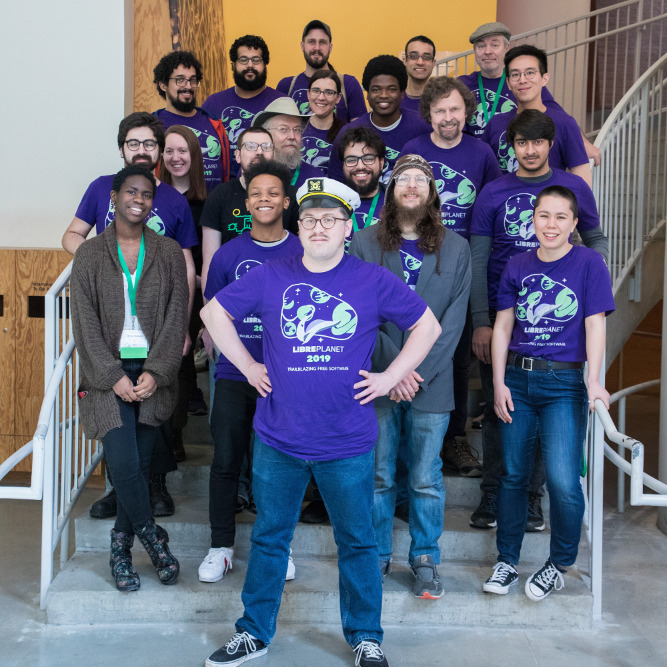 You can volunteer for as much or as little time as you like, whether you choose to help out for an hour or two or the entirety of both days. Either way, we'll provide you with a very handsome LibrePlanet 2023 shirt in your size in addition to free admission to the entire conference and lunch -- and the community's eternal gratitude. By the way, the shirts are manufactured by Bella Canvas, which is WRAP-certified, meaning they comply with ethical, health, and safety standards in manufacturing.
Would you like to be:
A room monitor/moderator who introduces speakers (can be done remotely or on-site);

An IRC moderator (online);

Part of an audio/visual crew to point cameras and adjust microphones (on-site);

Part of the set-up and clean-up crew to make our conference appear and disappear at the venue (on-site);

Part of the registration crew to welcome attendees and get to know speakers first hand (on-site); or

Responsible for the GNU Press shop (on-site)?
If you are excited about any of these tasks please reply to this email or write to resources@fsf.org. Let us know what you would prefer to do, what days/times of LibrePlanet you will be able to volunteer, and don't forget to mention your T-shirt size (we have unisex S-XXXXL).
For in-person volunteers, an important step is to attend a training and info session at the Free Software Foundation office in downtown Boston. There will be several training sessions, most of them from 18:00 to 20:00 EST in the weeks leading up to the conference. If you have any doubts about availability for a training, please let us know so we can adapt to your schedule. Some volunteer tasks (e.g. room monitors, A/V crew) require more training than others, but there are some important things we need all volunteers to know. The training will also help you to connect with other volunteers before the event. You may still volunteer without attending a training but your assigned role may be slightly less "glamorous" (but equally important).
Thank you for supporting the Free Software Foundation and thank you for volunteering! It's people like you who ensure that LibrePlanet stays excellent.
Image Copyright © 2023, Free Software Foundation, Inc. licensed under the Creative Commons Attribution 4.0 International license.