It's Fall, still, and the Bulletin is out!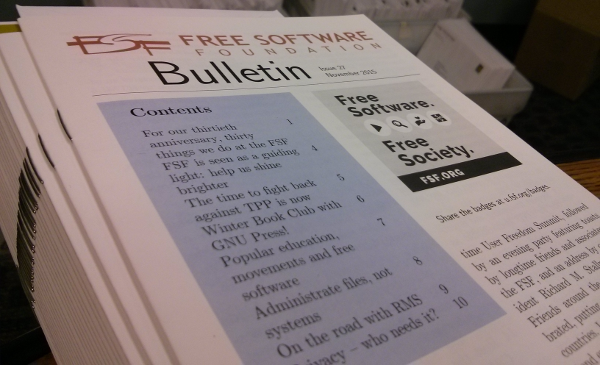 Bulletin is in the mail and online!
As many of you are aware, twice a year we mail a new edition of the FSF Bulletin to our members and supporters via the good old United States Postal Service. The Bulletin comes together in just a few weeks, and this time we had to make an extra quick turnaround after celebrating FSF30.
The latest Bulletin includes some great reflections on the first thirty years of the FSF, from where we have come to where we are going; what keeps us going day-to-day and what excites us (spoiler alert: it's you!). We touch base on actions to take in response to the Trans Pacific Partnership and surveillance. We discuss ways to connect the free software movement to other movements without being overly technical. And as always, there are stories from the road and a look at new materials in the GNU Press shop!
Go ahead and read it online, download the pdf or if you are so inclined, compile the TeX source!