Introducing Alex Patel, our summer Campaigns intern
by apatel Contributions
—

Published on

Jun 30, 2014 02:54 PM
My name is Alex Patel, and I'll be working as an intern with the campaigns team at the Free Software Foundation this summer. This fall, I will be a sophomore at Harvard College in Cambridge, MA, at which I'm pursuing a joint degree in computer science and philosophy.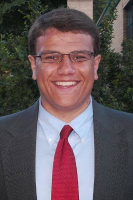 In my free time, I write and code for The Crimson, Harvard's student newspaper, and I like reading historical fiction and the news. I also enjoy spending time at the Computer Clubhouse in the Boston Museum of Science, at which I help teach programming.
As I loaded up on quantitative courses this past year, I began to understand just how much I'm surrounded, every day, by free software: LaTeX, GCC, Bash, MySQL, Git—the list goes on and on.
One thing that I've noticed is that, at least at Harvard, nobody tells you that these tools are free (as in, the "speech" kind). It's an implicit conclusion, at least within the Computer Science department, that conceptual and theoretical teaching is sufficient, but only because students have, on their own, unrestricted access to a vast network of tools and resources upon which they can build their skills and expertise. The message is this: "If you get stuck, look at the documentation."
Nobody ever stops and acknowledges, though, that the free source code and documentation so prominent within the academic setting—and so many other fields—weren't always free, and that securing free software is still a battle fought by many. What would be the state of a systems course if GDB and GCC were nonfree?
That's why I applied to be an intern at the FSF this summer (in addition to RMS' puns).
I'm excited to learn about the technical and legal concepts that I expect to be prevalent within my education. I'm excited to debate and learn from people whose principles may be different from my own, and to assist in advocating for claims that I believe to have important implications for not only me, but for a lot of people for whom technology plays a major role. This summer, I'll be working with the Campaigns team to refine some of the infrastructure for Defective by Design and LibreJS, among others, and to look into analytics for FSF fundraising and campaigns.
Feel free to shoot me an email at apatel@fsf.org, or find me on IRC under ahp.
More information about the FSF's internship program is at https://www.fsf.org/volunteer/internships.