I spoke at LibrePlanet and you can too
This is a guest post from Shauna Gordon-McKeon, who spoke at LibrePlanet 2014 on behalf of OpenHatch.
LibrePlanet 2015's call for sessions is open for ten more days, until Sunday, November 2nd. Submit your proposal now! Email campaigns@fsf.org with questions about the call for sessions.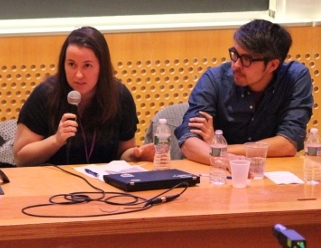 When the call for session proposals for LibrePlanet rolled around last year, I wasn't sure whether to submit. I hadn't spoken at many conferences before, and I wasn't sure whether the topic I wanted to speak on -- open science -- would be a good fit. But when I looked through the conference Web sites from previous years, I saw a lot of diverse topics and enthusiasm for welcoming new speakers.
So I applied, and a few months later the panel I organized spoke to a full room. I encourage you to submit a session proposal for LibrePlanet 2015!
LibrePlanet is a small, casual conference with a friendly atmosphere. That makes it a great place to speak for the first time, or to propose a new topic. If you have questions or would like advice about submitting a proposal, you can ask the FSF Campaigns Team at campaigns@fsf.org. Hope to see you at LibrePlanet 2015!