Hot off the presses: A sneak peek at the LibrePlanet 2020 schedule
LibrePlanet 2020: Free the Future confirmed sessions have been published at libreplanet.org/2020!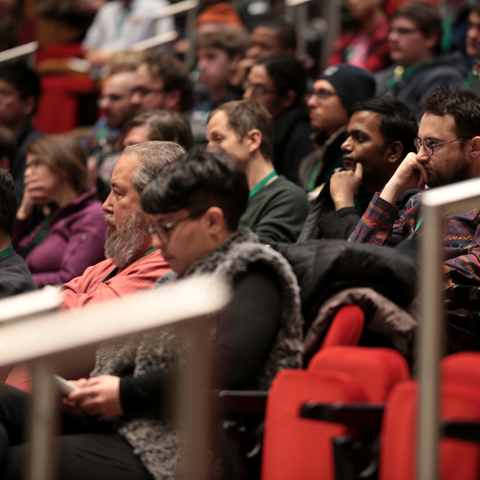 On March 14th and 15th, 2020, the free software community will come together at the Back Bay Events Center to learn, exchange ideas, catch up with friends, and plan the future of the movement.
Register today! As always, Free Software Foundation (FSF) associate members and students attend gratis.
LibrePlanet 2020 is organized by the FSF. Hundreds of people from across the globe will converge to explore this year's theme, "Free the Future." We'll be delving into the threats to user freedom that we've all been reading about every day in the media, as well as the unique role the free software movement plays in solving these problems.
In addition to the first keynote we announced last month, Brewster Kahle, LibrePlanet 2020 will feature a panoply of presentations. Our lineup includes some talks we absolutely can't wait to see, and we think you'll feel the same way! You can now dive in to the speakers already confirmed and start planning your itinerary. Make sure to have a look at these highlights:
LibrePlanet 2020 offers lots of opportunities for socializing, too! The annual FSF open house will take place on the evening of Friday, March 13th, at the FSF office. And the LibrePlanet Saturday night party will feature a sparkling new location. As we have in the past, we'll organize a dinner specifically for women, genderqueer, nonbinary, and gender non-conforming attendees, please mail campaigns@fsf.org if you're interested in joining. If you are looking to organize your own dinner or meetup, you can do so using the LibrePlanet wiki 2020 conference social and dinner pages as a central place for communication about this.
Pre-order a LibrePlanet 2020 T-shirt by February 26
You can pre-order a LibrePlanet 2020 commemorative T-shirt from the GNU Press shop. Make sure you order your shirt by February 26 to guarantee availability in your size.
We are planning a photo with people wearing LibrePlanet T-shirts this year. So if you have a vintage LibrePlanet T-shirt, sign up on the LibrePlanet wiki T-shirt page, bring it and we will take a snazzy group photo!
LibrePlanet needs volunteers -- maybe you!
LibrePlanet has grown in size and scope, and its continued success is thanks to dozens of volunteers who help prepare for and run the conference. Volunteering is a great way to meet fellow community members and contribute to LibrePlanet, even if you can't attend in person! If you are interested in volunteering for LibrePlanet 2020, email resources@fsf.org. We thank all of our on-site volunteers by offering them gratis conference admission, lunch, and a LibrePlanet T-shirt.
Seeking sponsors
LibrePlanet cannot exist without the support of the community. If you or your company would like to sponsor or exhibit at LibrePlanet, please email resources@fsf.org.
Your support will help sustain, energize, and inspire the free software community. Sponsoring provides you the unique opportunity to demonstrate your commitment to free software, and engage with hundreds of legal and policy experts, developers, students, activists, free software and technology enthusiasts, and potential employees with your organization.
Spread the word about LibrePlanet 2020: blog or microblog to let people know that you'll be there, using the hashtag #libreplanet.
We hope to see you in four weeks at LibrePlanet!