Here's a sneak peek at LibrePlanet 2017: Register today!
In just six weeks, on March 25 & 26, 2017, free software hackers, lawyers, activists, students, educators, librarians, and community organizers will gather at the Massachusetts Institute of Technology (MIT) to explore the roots of software freedom. Will YOU be there?
Don't delay: Register today to ensure that you will attend LibrePlanet 2017: The Roots of Freedom. Remember, FSF members and students attend gratis.
Hundreds of people from across the planet will gather at LibrePlanet 2017: The Roots of Freedom at MIT in Cambridge, Massachusetts. This year's conference speakers will examine the foundations of software freedom and the ideas and projects they inspired.
Four keynote speakers will anchor the event. Kade Crockford, director of the Technology for Liberty program of the American Civil Liberties Union of Massachusetts, will kick things off on Saturday morning by sharing how technologists can enlist in the growing fight for civil liberties. On Saturday night, Free Software Foundation president Richard Stallman will present the Free Software Awards and discuss pressing threats and important opportunities for software freedom.
Day two will begin with Cory Doctorow, science fiction author and special consultant to the Electronic Frontier Foundation, revealing how to eradicate all Digital Restrictions Management (DRM) in a decade. The conference will draw to a close with Sumana Harihareswara, leader, speaker, and advocate for free software and communities, giving a talk entitled "Lessons, Myths, and Lenses: What I Wish I'd Known in 1998."
That's not all. We'll hear about the GNU philosophy from Marianne Corvellec of the French free software organization April, Joey Hess will touch on encryption with a talk about backing up your GPG keys, and Denver Gingerich will update us on a crucial free software need: the mobile phone.
Others will look at ways to grow the free software movement: through cross-pollination with other activist movements, removal of barriers to free software use and contribution, and new ideas for free software as paid work. Speakers will include Software Freedom Conservancy's director of strategic initiatives Brett Smith, blind free software activist Chris Hofstader, and Micky Metts of the Cambridge, Massachusetts Web development collective Agaric. The full program will be published soon. In the meantime, you can see the list of confirmed speakers.
Each year at LibrePlanet, we gather software developers, activists, policy experts, and computer users to share accomplishments, learn skills, and address challenges to software freedom. Newcomers are always welcome, and LibrePlanet 2017 will feature programming for a broad range of experience levels, including students.
When planning your travel, keep in mind that while the conference proper will be Saturday and Sunday, there will be social events on Friday, Saturday, and Sunday evening.
LibrePlanet 2017 is produced in partnership by the Free Software Foundation with the Student Information Processing Board (SIPB) at MIT.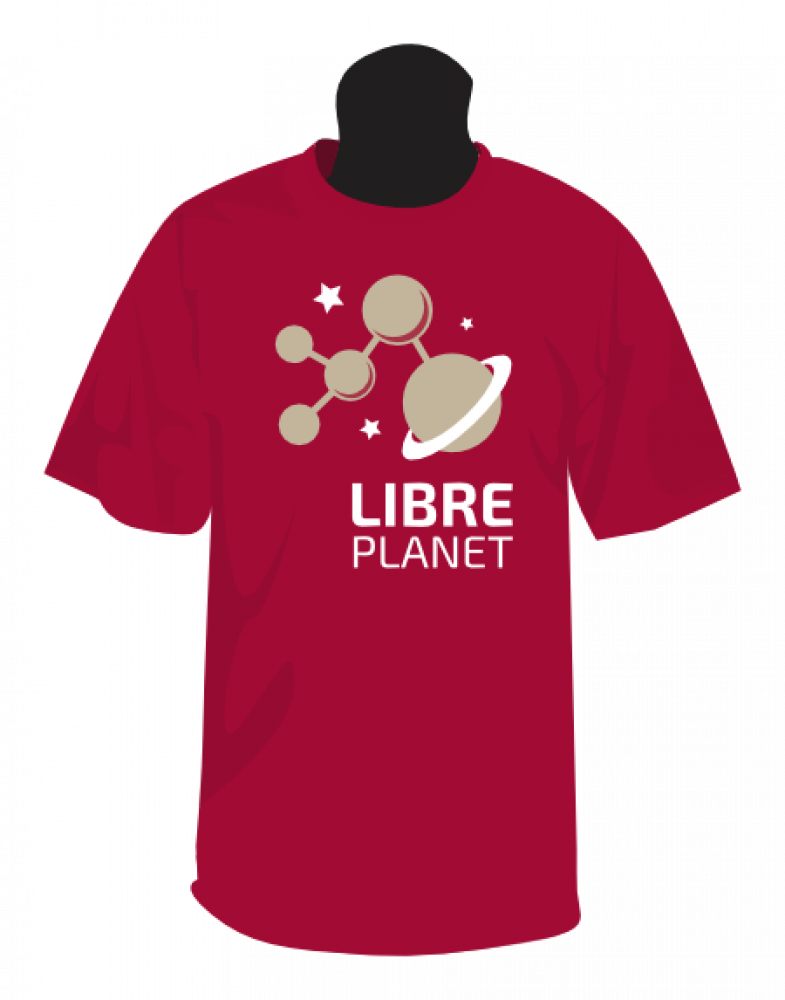 Pre-order a LibrePlanet 2017 t-shirt by March 6th
You can also pre-order a LibrePlanet 2017 commemorative t-shirt in the GNU Press shop. Order your shirt by March 6th, 7am EST/13:00 UTC to guarantee availability in your size. If you will be picking up the shirt at the conference, use the code LP17 to waive shipping costs. If you want it shipped to you, don't use that code, and expect it to arrive after the conference.
Volunteers make LibrePlanet awesome
LibrePlanet has grown in scope and attendance over the years—it started out as a Free Software Foundation membership meeting. This conference would never have become the highly-anticipated event it is today without the help of dozens of volunteers who make things happen, before and during the conference—and it's a great way to meet fellow community members. There are even ways to help if you can't attend in person! If you are interested in helping out with LibrePlanet 2017, email resources@fsf.org. We show our appreciation for our volunteers by offering gratis conference admission and a LibrePlanet t-shirt.
Don't miss out on your chance to explore the roots of freedom. Register for LibrePlanet 2017 today!