Hackers of the world unite at HOPE 2022
FSF report of this year's Hackers on Planet Earth (HOPE) conference.
Staff and volunteers and 2022 HOPE conference
Phreakers and hackers alike united for the Hackers on Planet Earth (HOPE) conference at St. John's University in Queens, New York, and the Free Software Foundation (FSF) was there to spread the message of free software and do outreach to the local community. As any hacker gathering is a prime place to find free software activists, HOPE was also the occasion for an FSF member meetup at a nearby restaurant.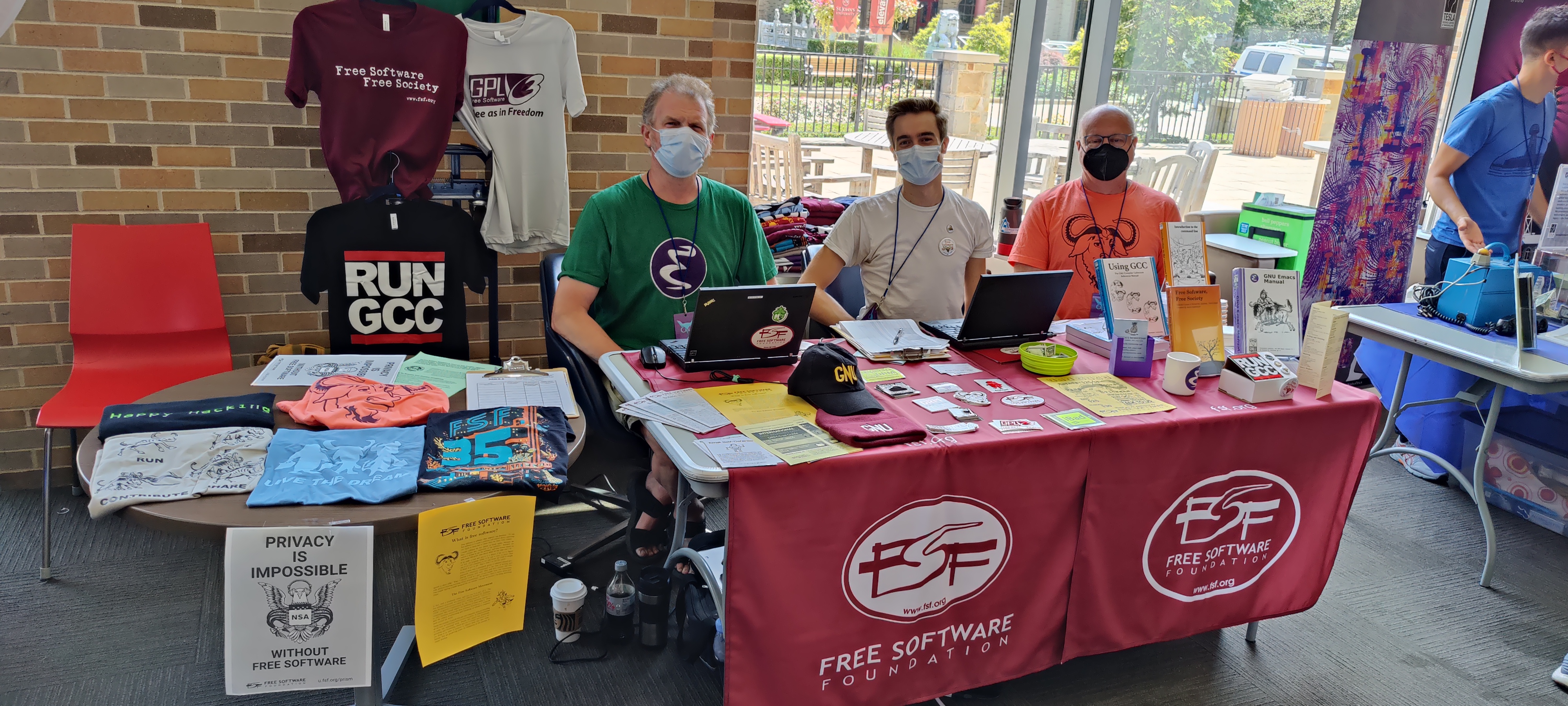 The FSF booth was headed all three days by FSF operations assistant Davis Remmel and a revolving door of staffers and volunteers, including copyright associate Craig Topham and senior systems administrator Ian Kelling. In addition to selling everybody's favorite books and shirts from the GNU Press, we had conversations on topics as wide-ranging as free software in high performance computing, questions raised by Microsoft GitHub's Copilot, and the Defective by Design campaign's work against Digital Restrictions Management (DRM) found in e-books and streaming disservices.
Naturally, the sessions at HOPE had a lot to offer. FSF staff were very busy at the merch table and talking to attendees about free software. However, we attended the sessions every chance we had, all of which were engaging and instructive. From John Huntington on escaping the "purgatory" of DRM-encumbered Kindle Direct Publishing, to Sophie Zhang's keynote on her experiences whistleblowing on Facebook, to sessions on ActivityPub, and the practical steps one can take to improve their privacy -- HOPE had it all. We even heard from at least one past LibrePlanet speaker, keynote Cory Doctorow. Needless to say, the user freedom contingent of hacker culture was well-represented.
Seeing the young hackers milling around and learning from the old guard contributed to the good vibes. One particular highlight was the "pirate" radio station set up in that surreptitious spirit of playful cleverness. The hacker responsible for the station set it up by pinning receivers to the wall and hiding them in the light fixtures! Just like any conference worth its salt, the "hallway track" between HOPE's session rooms was a good place to hear about new free software, hardware hacks, and developments in cryptography.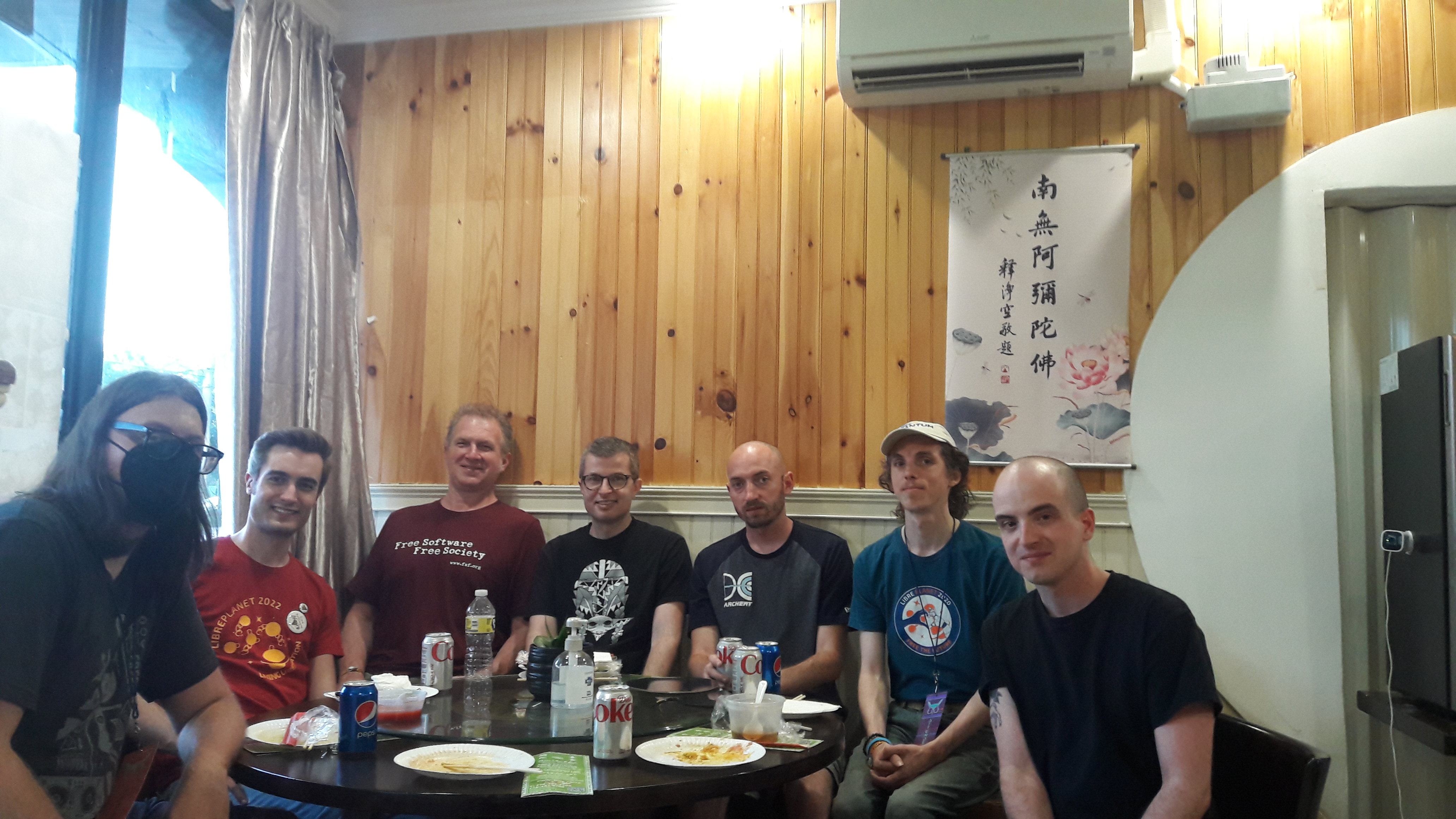 After two days of spreading the message of software freedom and selling merch to attendees who wanted to support the FSF, all of us spent some time unwinding at the FSF member meetup. There, we carried the same commitment to user freedom to a more informal territory as we all split vegan food. Good conversation was had by all, of course, and the highlight of my night was one memorable quote from Davis: "Nonfree software is totally bogus and I hate it." Maybe you can relate?
As it often does, interacting with other free software activists in-person led to some new bonds and new commitments. During HOPE, we also registered twenty-one new FSF associate members. After such a long time spent in quarantine and with the pandemic not yet over, it was especially inspiring to rediscover some of free software's communal elements and see FSF members face-to-face.
We hope to see you at HOPE 2024 (pun intended) and at as many conference visits as we can fit into our schedule. Maybe you'll see us at an upcoming conference, and, if you'd like to join volunteers like Dave Palmer (thanks, Dave!) and get on the "other side" of the FSF tabling experience, please do volunteer if there's a conference coming up in your area!
Images Copyright © 2022 Free Software Foundation, Inc., licensed under Creative Commons Attribution 4.0 International license.