FSF35 videos online: Find them on PeerTube and MediaGoblin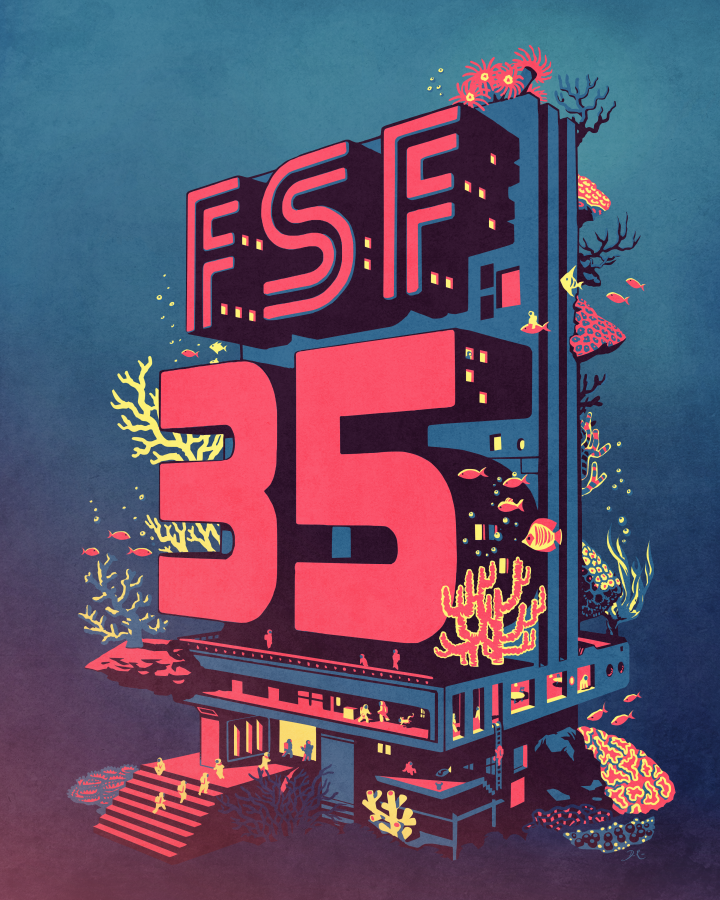 On October 9th, 2020, we ended the Free Software Foundation's (FSF) birthday week with an online anniversary event featuring both live and prerecorded segments. We were honored to have guests from different free software fields join us live for the celebration of the coral anniversary, and we were so thankful to receive prerecorded birthday messages from people in every corner of the world.
Many supporters asked us after the birthday celebration was over if the exciting sessions we hosted would be available online. So many community members made such valuable and fascinating contributions, and we didn't want you to miss out! Plus, the free software community is a global one, and between international members and American members who couldn't take time out of a work day, there are plenty of people who wanted to participate but weren't able.
So we've put the videos on our MediaGoblin instance, and what's more, you can also find these and other FSF videos on PeerTube! One of the sessions in our birthday celebration featured Framasoft cofounder Pouhiou, as well as Eda Nano, board member of April and member of La Quadrature Du Net, and since PeerTube is a Framasoft project, it was the one of the central topics of the conversation.
PeerTube is a decentralized, federated video platform powered by ActivityPub and WebTorrent. Thanks to Framasoft, the FSF now has a PeerTube account, hosted on the FramaTube instance. Besides our FSF35 birthday videos, we posted our series of animated videos there as well.
Our talk with Pouhiou and Eda also addressed activism in France, how French free software organizations work together, and about how Framasoft develops free software that fulfills the needs of users. Framasoft is determined to make and improve technology to actually free users, instead of focusing on artificially increasing the use of PeerTube through advertising and by tricking users into consumption that feeds the bottom line. PeerTube is a stellar example that we look forward to continuing to use creatively to spread the word about free software.
In another session, artist and illustrator David Revoy joined us to talk about the special design he made to help us celebrate our thirty-fifth anniversary. After a conversation about how he transitioned to free software, and an introduction into the free software tools he uses to make his spellbinding art and his recently released physical Pepper & Carrot comics, he took us through the step by step process of how he came to the final design of the beautiful FSF35 image, which was inspired by the collaborative nature of a coral reef.
The day's presentations also included prerecorded messages from the FSF's president Geoff Knauth, our executive director John Sullivan, and our founder Richard Stallman. All three sessions have such valuable messages, both for their different takes and anecdotes on how we got to where we are, as well as for the important takeaways and lessons moving forward. These core activists have been at the center of carrying out the FSF's mission for the past thirty-five years, and the knowledge and experience they gained will guide us into the future.
We also uploaded the two compilations of prerecorded messages we received from community members congratulating the FSF. Celebrated author and past LibrePlanet keynote Cory Doctorow, Free Software Foundation Europe (FSFE) president Matthias Kirschner, and Frédéric Couchet and Étienne Gonnu from April were among some of the speakers that were featured in these sections.
No matter where you are located in the world, you can help the fight for free software by organizing locally, and in the final conversation of the day, we discussed a range of success stories, tips, ideas, and experiences from seasoned free software activists connected to both large and smaller scale organizations. To emphasize the importance of local activism, the FSF announced during this talk that financial support for local free software organizations everywhere will be made available as soon as we are able to organize in-person events again.
Free software is an issue that speaks to people well beyond those who we are able to connect to through the wonderful community that has been established over the last thirty-five years. After decades of political complacency, we now see more people than ever standing up for themselves and spreading awareness of how proprietary software affects our freedoms. Introducing new people to the concept of free software is one of the most important things we can continue to do for the movement.
A schedule of all of the activities that took place during our anniversary celebration is at the anniversary event page, and you can find links to all of these videos there. We learned so much during the event, and we hope you will share these videos with your community and on your favorite microblogging service to help spread the free software message. We are so thankful for all the speakers and participants that joined us for the FSF35 celebration, and we continue to be inspired by you.
Image by David Revoy, Copyright © 2020, Free Software Foundation, Inc., Licensed under Creative Commons Attribution 4.0 International license.