FSF congratulates UK Government on choosing Open Document Format
by libby Contributions
—

Published on

Jul 29, 2014 04:11 PM
If you live in the UK, you'll soon be able to fill out government paperwork with your freedoms intact. The British government announced last week that Open Document Format (ODF), HTML, and PDF will be the official file formats used by all government agencies.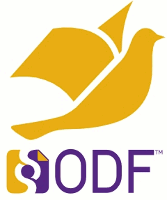 According to a press release from the Cabinet Office, "The standards set out the document file formats that are expected to be used across all government bodies. Government will begin using open formats that will ensure that citizens and people working in government can use the applications that best meet their needs when they are viewing or working on documents together."
The Free Software Foundation applauds the British government's decision to make ODF its official file format. We are especially happy that the decision excludes use of Microsoft's OOXML format, which is not fully free and would prevent the goal of interoperability. Now British citizens can use free software like LibreOffice without worrying that they'll have trouble applying for a passport, reading court documents, or getting their pensions.
The British government's adoption of ODF will make it harder for laggards to ignore the standard file format, and could inspire other governments to make the switch. After all, it's unethical to spend public funds on proprietary software that hinders interoperability and forces citizens to use the same software or miss out on access to vital government documents.
What's so great about ODF?
Users can read and write OpenDocument files without agreeing to proprietary software licenses and programmers are free to write applications that support ODF without fear of patent claims or licensing issues. Governments, businesses, and archivists can use ODF to ensure critical documents can be read for years to come, without being forced to pay for updates to proprietary software.
Using free formats is one of the easiest and most important things we can do to defend software freedom. We also need to reject proprietary formats from Microsoft Office and Apple's iWork (.doc[x], .ppt[x], etc.). At the FSF, we use only free formats in our office and we're proud to work with the LibreOffice project as a member of the Document Foundation's Advisory Board.
So, all of you in the UK who've kept a copy of Microsoft Office around for official business, now you can ditch the proprietary office suite and upgrade to one that respects your freedom: LibreOffice.