FSF at 35 -- join us in celebrating the incredible community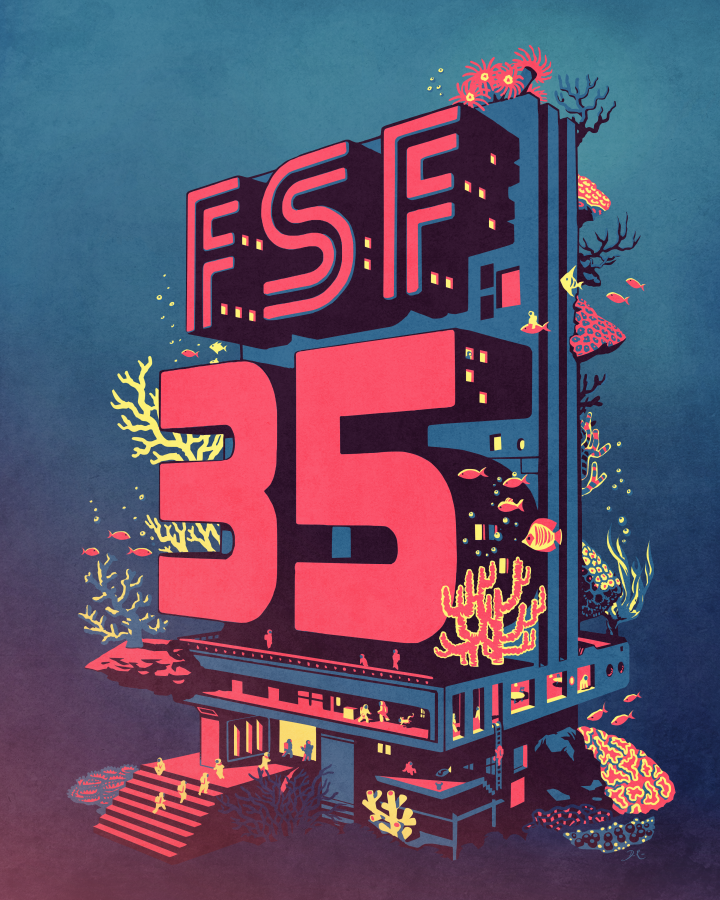 Today, on October 4th, the Free Software Foundation (FSF) celebrates its thirty-fifth year of fighting for software freedom. Our work will not be finished until every computer user is able to do all of their digital tasks in complete freedom -- whether that's on a desktop, laptop, or the computer in your pocket. The fight for free software continues, and we wouldn't be here without you.
To celebrate, we have a full week of announcements and surprises planned starting today, and we will end in an online anniversary event featuring both live and prerecorded segments this Friday, October 9th, from 12:00 EDT (16:00 UTC) until 17:00 EDT (21:00 UTC). We'd love for you to join in celebration of this amazing community by submitting a short (two-minute) video sharing your favorite memory about free software or the FSF, and a wish for the future of software freedom. We'll be collecting the videos all week and airing a selection during the birthday event on October 9th. Please follow the instructions linked below on how to successfully (and freely!) submit the video via FTP.
If you are able to, please make a donation of $35 or more to help keep the fight for user freedom going another 35 years, we'll send you a commemorative pin as pictured in this blog post.
Uploading a video
We'd love to have you submit a video for us to show during this week's festivities. Please follow the instructions we've posted to the LibrePlanet wiki to upload your video, and write to us at campaigns@fsf.org when you're finished. Please keep your comments on the topic of free software and the FSF, and your video length under two minutes.
There's no better way to commemorate the FSF's 35th anniversary than to spread the free software message. We've come up with a few more ways you can do so, and ideally encourage your friends to do the same. The best gifts we can ask for are the individual contributions that keep this movement going.
Ways to celebrate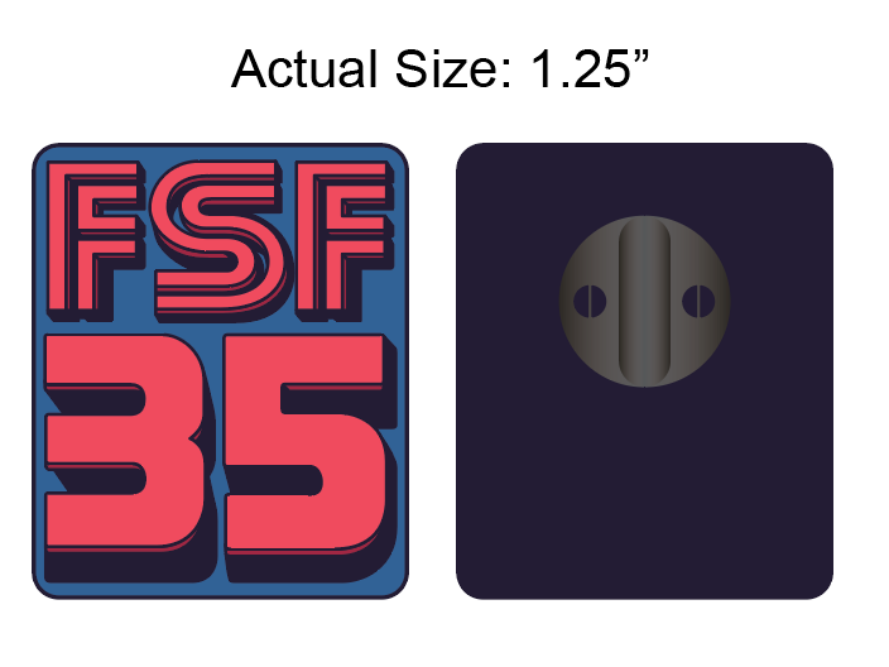 Join me in celebrating #fsf35 with the free software community and the @FSF this Friday, October 9th by tuning into fsf.org for the live anniversary event.
We're another year older, but that doesn't mean we're slowing down our efforts to bring software freedom to users around the globe. Stay tuned for more information on how we plan to ring in the FSF's next year, and the vital role each one of us plays in ensuring free software's success for the future. We hope that you'll be able to take part in our festivities this week!