Freedom moving forward: An overview of the FSF's history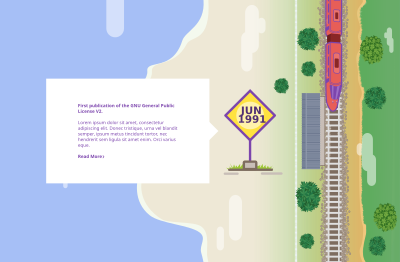 Our thirty-fifth birthday as an organization has given us the opportunity to think about the Free Software Foundation's (FSF) development over the years. More than thirty-five years of history is hard to bring together in a few sentences, so much so that even staff at the FSF sometimes have to do serious research into the exact dates that milestones occurred. This being the case, we realized it was high time to create an overview listing key points in the history of the FSF and GNU.
Today we launched the FSF history timeline page which shows a clear overview of milestones for the organization, like when the GPLv3 was published, or when the first LibrePlanet conference took place.
All of these pages have links that will lead you deeper down the rabbit hole of increasing your knowledge on the historical work of the FSF and the wider free software movement. Never again will you have to guess (or cheat!) your answers to an FSF trivia game, as we have listed everything we think you might want to know about the FSF's history. Naturally, if you have suggestions (or corrections!) for additions of important milestones, you can let us know at campaigns@fsf.org.
Resources such as these are important for the continued education of people about free software. You are helping to push this work forward, so thank you for the support! Please take a moment to publicly bring attention to the need for free software: use the hashtag #UserFreedom, and share this message to help us build further support. With this publication celebrating the history of the FSF, this summer fundraiser has come to an end, and we have been humbled by the support we received from you, having exceeded both our original goal and our stretch goal. It means a lot to us and will help strengthen our future work.
Thirty-five years is a long time to be fighting for freedom, and we've made many important strides. Seeing it all together makes us very proud, but it also helps us realize how much more work there is left to do. We have never done this work alone. There are hundreds of thousands of activists all over this planet, and we count on your support to continue to add milestones to this timeline, on the route towards user freedom.
Illustration Copyright © 2021 Free Software Foundation, Inc., licensed under Creative Commons Attribution 4.0 International license.