Free software needs net neutrality! This is our LAST CHANCE to save it
UPDATE: While the ironically-named "Restoring Internet Freedom" changes were made, net neutrality supporters are now one vote away from winning a Senate vote on a Congressional Review Act (CRA) resolution to overturn the FCC's unpopular repeal of net neutrality. All 49 Senate Democrats are now co-sponsoring the move, and Susan Collins (R-ME) has said she plans to support it. So there's still time to take action - use the phone numbers below to broadcast your support for net neutrality!
On Thursday, December 14th, the US Federal Communications Commission (FCC) is voting on whether to gut net neutrality. They call the proposed changes "Restoring Internet Freedom," but we think it is "Revoking Internet Freedom."
We have two more days to do everything we can to make our voices heard on this monumental issue. Below we have a sample script for calling the United States Congress, ideas for social media posts, and a bit about why free software needs net neutrality. If you want to read even more about why the Free Software Foundation (FSF) loves net neutrality, you can view this post on our blog.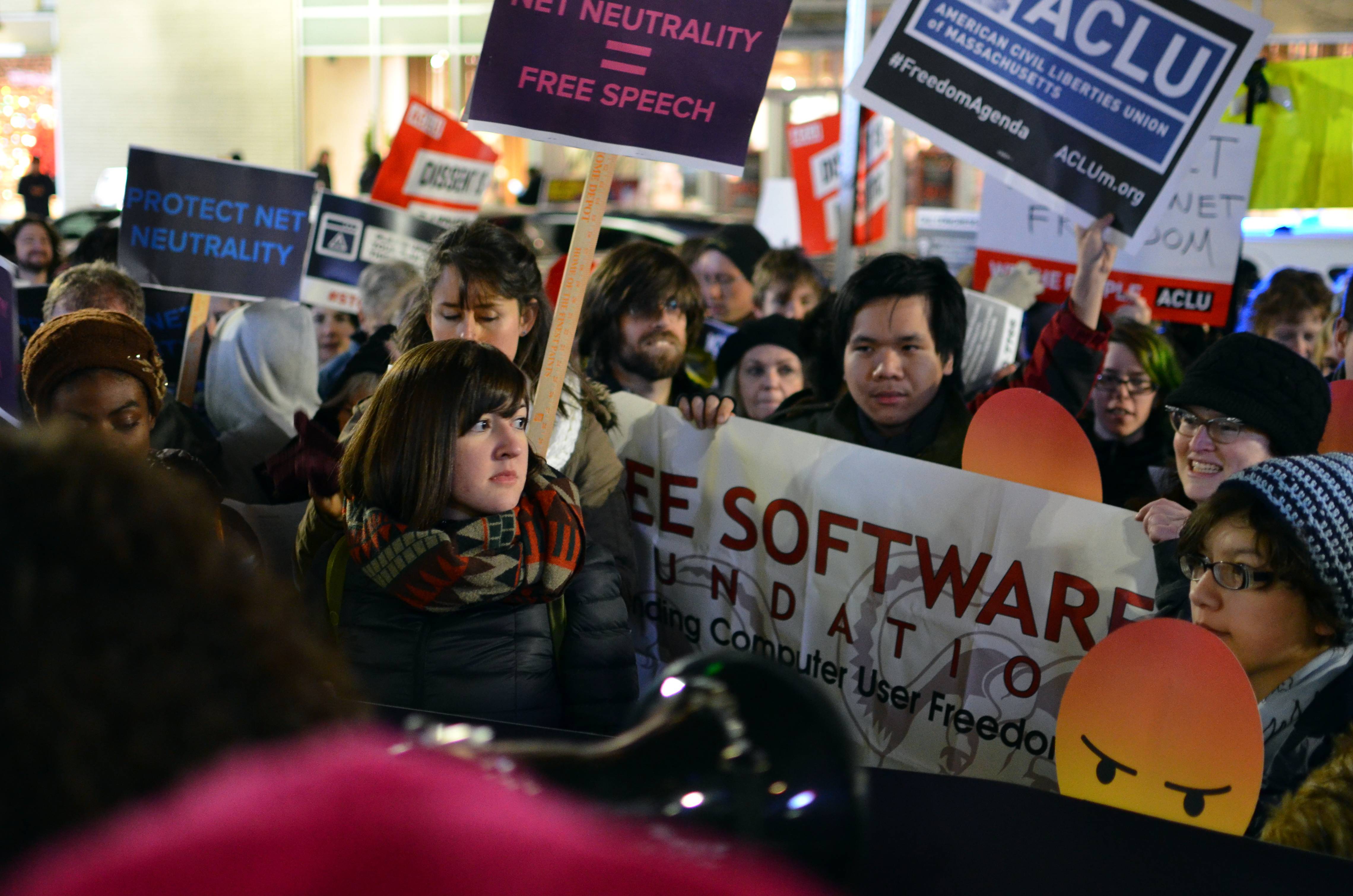 Net Neutrality protest at the Boylston Verizon Store in Boston, MA on December 7th, 2017. Photo by Ruben Rodriguez. Creative Commons Attribution-ShareAlike 4.0
Call, call, call
If you are in the US, call Congress today. Nervous? Try using the following script:
Hello, I live in CITY/STATE. I am calling to urge you to support net neutrality and stop the FCC from removing common carrier status from Internet Service Providers like Comcast and Verizon. This is the only thing we have protecting a free Internet, which everyone needs. Thank you for your time.
Don't know who to call?
You can find your Representative and call them.

Dial the House of Representatives at (202) 224-3121 and they will connect you.

Call your Senator directly. Find their number here.

Dial the Senate at (202) 224-3121 and they will connect you.
(Note: The number for the House and the Senate is a switchboard that will direct your call.)
Post and share
No matter where you live, if you use social media, you can join others in making as much noise as you can in support of net neutrality. Share your favorite articles, change your profile photos, tell people you care about a free Web, and that, today, net neutrality is the way to maintain a free Web in the United States.
Need a sample message?
I support #netneutrality and #freesoftware!

#Freesoftware needs #netneutrality

I need #netneutrality because I need a free Web
You can also share this post, or look though our social media history for more ideas.
Why net neutrality?
There are so many reasons why we think net neutrality is important--and why it's necessary for free software. We'll briefly mention that:
Free software is built collaboratively by using Web tools and Internet connections around the world.

Free software is most easily discoverable thanks to pages like the Free Software Directory.

Need to update your system or software quickly? You need an Internet connection to make that happen.

Organizations like the FSF use the Web to educate and share free software ideology and tools.

The FSF itself is run by a small team spread across the globe. Every day we use tools like IRC to communicate and work for user freedom together, with one another, and with you.

We promote decentralized free software replacements for centralized software services, and that losing net neutrality means the centralized services will have a huge built-in advantage.
Without a free Web and free Internet, what we--this includes you--can do online will be limited by what ISPs like Comcast and Verizon want you to be able to do. They will have the legal right to control which Web sites we can access and how fast that access will be--and they will take advantage of their new ability to extort even greater fees from Web site and consumers alike.
We're asking you to take the time today and tomorrow to call Congress. Make some noise online. Tell your friends. Save the Internet.
Fellow digital rights organizations are running a campaign called
Break the Internet
. While we would love to share these other ways to take action, we cannot in good conscience link to the relevant Web pages because they require non-free Javascript
.