First GNU Bucks awarded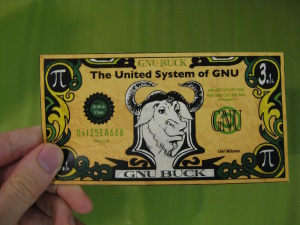 The GNU Bucks bounty program is off to a great start. Two contributors have already found instances of nonfree components in FSF-endorsed fully free distributions.
Marco Oliva found two nonfree graphics demos in gNewSense's mesademos package. And Vicente Herrera found a script that downloads nonfree fonts in Trisquel's TeX Live packages.
We confirmed these reports earlier this month. Marco and Vincente will each receive a GNU Buck, in the amount of pi, signed by Free Software Foundation president and "Chief GNUisance" Richard Stallman.
Both Trisquel and gNewSense have fixed the issues. The Trisquel changed its texlive-base-bin packages to remove the nonfree script within just a couple days of being notified! We encourage you to try out these two excellent distributions.
The FSF launched its GNU Bucks program to help guarantee that GNU/Linux distros on our list of fully free distributions contain only free software. Many popular GNU/Linux distributions include nonfree software packages and recommendations like device drivers or Adobe Flash, but the FSF strongly believes in people's right to a complete operating system that runs using only free software. The work of ensuring that the distributions we endorse are fully free then becomes very important, and it looks like the community-driven approach we chose (complete with a cute award) is off to a great start!
Thanks to both Marco and Vincente for helping these distributions achieve what they want to achieve--to have only free components. We're happy to continue to endorse them, because they are committed to removing nonfree components, and their reactions to these bugs demonstrate that commitment.
See the GNU Bucks guidelines for more on how you can report nonfree components in FSF-endorsed distributions.