Celebrate GNU's big "three-o"
by libby Contributions
—

Published on

Sep 06, 2013 04:44 PM
30 years ago, Richard Stallman published the announcement that would launch the free software movement.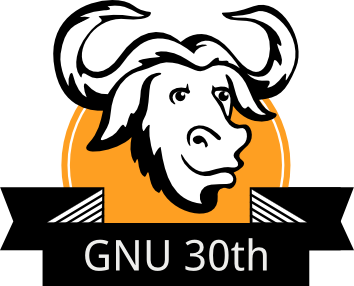 Celebrate software freedom online and at events being held all around the world. Visit our Web page to register for the big shebang in Boston, take action online, and learn about satellite events being held around the world.
Celebrate online with GNU-a-Days and more
Looking for an easy way to get in on the fun and support software freedom? Check out our GNU-a-Days, daily challenges you can take throughout the month of September. Show your GNU pride by grabbing our special 30th anniversary web badge for your site or profile picture. You can also make a special 30th anniversary donation to ensure that the GNU system enters its next decade stronger than ever. It's all at our special GNU 30th Web page.
30th anniversary celebration and hackathon in Cambridge
Have you registered for the big anniversary bash on September 27 - 29 in Cambridge, MA yet?
GNU system founder Richard Stallman will be there, as will many of GNU's early participants and the maintainers of GNU projects.
In addition to cake and special remarks from Richard Stallman, the anniversary celebration will take the form of a hackathon. The hackathon will focus on important needs for free software in today's Internet-based world. Hackathon participants will include many GNU projects and other free software projects that fit the theme. They include: coreboot, Gnash, GNOME, GNU FM, GNU MediaGoblin, GNU social, Tahoe-LAFS, Tor, and others.
Satellite events
GNU supporters all over the world are planning their own celebrations, and we've listed them all on the 30th anniversary page. Events are currently in the works in Buenos Aires, Argentina, Cox's Bazaar, Bangladesh, Kitchener, Canada, Prague, Czech Republic, Paris, France, and Tokyo, Japan. Check back often for new additions. To host a satellite event in your area, contact campaigns@fsf.org.
No matter who you are or where you live, we hope you'll find a way to celebrate the 30th anniversary of the GNU system.
Happy hacking!