Cambridge, MA City Council adopts resolution to commemorate thirty years of GNU
by wtheaker Contributions
—

Published on

Jan 07, 2014 11:52 AM
This past September, the GNU System celebrated thirty years of fighting for software freedom with a celebratory hackathon at MIT.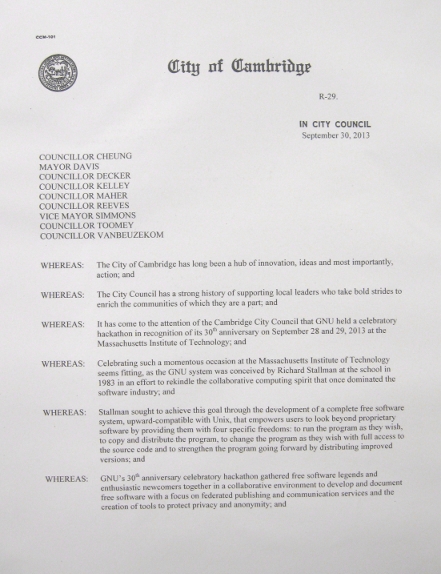 On September 27, 1983, a computer scientist named Richard Stallman announced the plan to develop a free software Unix-like operating system called GNU, for "GNU is not Unix." GNU is the only operating system developed specifically for the sake of users' freedom. Today, the GNU system includes not only a fully free operating system, but a universe of software that serves a vast array of functions, from word processing to advanced scientific data manipulation, and everything in between.
To commemorate this occasion, the Cambridge City Council issued a statement in support of GNU and software freedom. All nine councilors, including Mayor Davis, signed resolution R-29, which reads:
"The City of Cambridge has long been a hub of innovation, ideas and most importantly, action; and ... Celebrating such a momentous occasion [as the 30th anniversary of the GNU System] at the Massachusetts Institute of Technology seems fitting, as [it] was conceived by Richard Stallman at the school in 1983 in an effort to rekindle the collaborative computing spirit that once dominated the software industry; and Stallman sought to achieve this goal through the development of a complete free software system, upward-compatible with Unix, that empowers users to look beyond proprietary software by providing them with four specific freedoms: to run the program as they wish, to copy and distribute the program, to change the program as they wish with full access to the source code and to strengthen the program going forward by distributing improved versions ... [It is resolved] that the City Council go on record congratulating Richard Stallman, the leader of GNU and the free software movement, on the occasion of GNU's 30th anniversary celebratory hackathon at the Massachusetts Institute of Technology on September 28 and 29, 2013."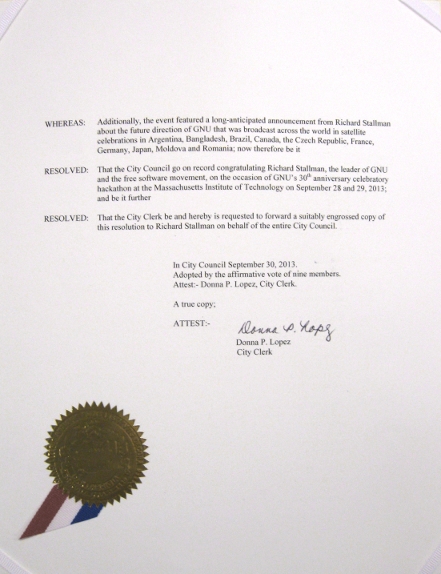 On December 30, we asked our supporters to give $30 dollars to commemorate thirty years of the GNU System. We're excited about the future of GNU and want to do more. If you haven't already, please help us take GNU into the next thirty years. Your contribution will help us meet our $450,000 annual fundraising goal.