Call on the new French president to "Stop software patents"
The next Competitiveness Council will be held on May 30th and 31st, 2012. François Hollande's government will be attending it for the first time. April, the French free software group, calls upon the president to take this opportunity to act against software patents and bring up the flaws of the current unitary patent project.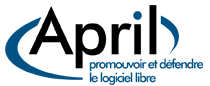 La fin du brevet logiciel, c'est maintenant — Les 30 et 31 mai 2012 aura lieu le premier Conseil compétitivité auquel participera le gouvernement de François Hollande. L'April appelle donc le président à profiter de cette occasion pour agir contre les brevets logiciels et mettre sur le tapis les défauts et problèmes du projet actuel de brevet unitaire.