Call for Sessions extended until November 17
We are extending the Call for Sessions for LibrePlanet 2024: Cultivating Community until November 17, 12:00 EST (16:00 UTC).
The call for sessions for LibrePlanet 2024 has been extended
We're excited by what we've seen come in so far. Thank you to those who submitted a session for LibrePlanet 2024! If you haven't submitted your session yet, please take advantage of the extension and submit by November 17, 12:00 EST (16:00 UTC).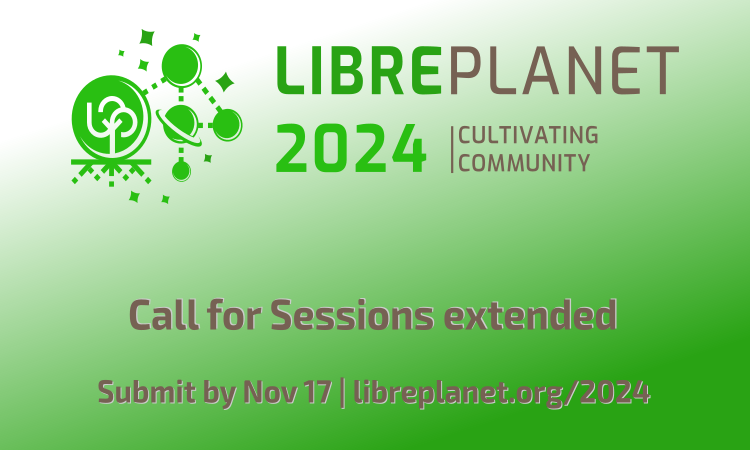 The theme for LibrePlanet 2024 is "Cultivating Community." This year's focus is on further growing the free software movement, mobilizing from the grassroots, and building a stronger community in the process. We will ask ourselves: How can we be a welcoming community, one that attracts newcomers, as well as continue to be a lasting home to all the wonderful people who already belong to it?
Call for Sessions
Submit your session today! Submissions are being accepted through Friday, November 17, 12:00 EST (16:00 UTC). All you need to submit is the session type (workshop, presentation, or discussion), a session title, and an abstract. Optionally, you may add a biography and information on previous presentations you've given if any.
Traditionally, a presentation is a thirty-five minute talk plus ten minutes for Q&A. For a workshop, we allocate ninety minutes. Workshops should be hands-on and experiential. A panel is a forty-five minute discussion and should ideally include two to four panelists who bring in different backgrounds and/or perspectives.
LibrePlanet 2024: Cultivating Community will mostly feature sessions in person, as in-person sessions allow for a high quality of interaction and are more popular among our audience. However, we will consider applications for remote sessions, too, with the intent of integrating high-quality sessions into the schedule. Please decide upon applying whether you would like to speak on site in the Boston area or remotely. If you need financial assistance to travel to Boston, please select the respective option upon applying.
The LibrePlanet committee is looking for talks, discussions, and workshops for all ages and experience levels. As always, we welcome any talk related to free software that fits one of the following tracks: licensing, security, community, social context, hardware, the freedom ladder, free software documentation, free software in government, education, or practice, workshops, or talks that explore free software concepts. To help the committee, specify in your abstract which track(s) you think your session fits in best. Ideally, sessions should explore the theme "Cultivating Community." For example, your session could:
Show ways of effectively organizing community, increasing diversity, facilitating the participation of volunteers, or encouraging users to contribute to your project;

Share your climb up the freedom ladder, where you struggle to integrate free software in your daily life, and where you've already succeeded;

Explore the theme through broader spheres of education, licensing, medicine, government, business, art, social movements, fostering diversity, or improving accessibility;

Tell the world about your free software or free hardware project, with a focus on how you invite newcomers to participate or attract new users;

Present free software, like a chat platform, a forum, or a screenreader-friendly program that enables participation;

Host a workshop on how to use a free software tool, how to hack, or how to start building your own free software project; or

Lead a hack session on a free software project.
If you're looking for inspiration, check out last year's conference website and session videos. All session proposals will be reviewed by a community committee representing a wide range of expertise.
Call for Sessions office hours
Do you have questions, comments, ideas? Do you need help with your session proposal? Would you like to be part of the LibrePlanet 2024 committee? Or would you just like to socialize? No matter what, please come meet with us in our Call for Sessions office hour on IRC on Thursday, November 2, from 13:00 to 14:00 EDT (17:00 - 18:00 UTC) in the #libreplanet channel of the Libera.Chat IRC network.
Not yet set up for IRC? Please read https://libreplanet.org/wiki/IRC_Help.
You are also welcome to send an email to campaigns@fsf.org with your session ideas and questions.
About the conference
The conference will be held in March 2024 in the Boston area (exact venue TBD). LibrePlanet 2024 will be an in-person event, but remote attendees will be able to watch the livestream and ask questions on IRC.
Register to attend LibrePlanet in person.

Register to attend LibrePlanet remotely.

The LibrePlanet committee is looking forward to reading your session proposals.