Boston supporters! Join us against DRM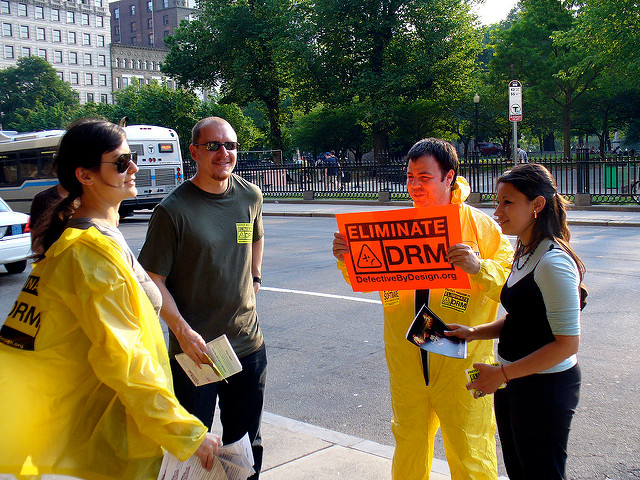 International Day Against DRM (IDAD) is coming up on Tuesday, September 18th. This is our twelfth year gathering together to say in one voice that we oppose Digital Restrictions Management (DRM). If you live in the Boston area, we hope you'll join us for some in-person events! We're excited to spread the word about the injustice of DRM face-to-face, and we hope to see you there.
IDAD Events
Can't join us in person?
There are still things you can do to participate in IDAD! IDAD is a global event with people from all around the world participating and taking action online and in their communities. Here are a few things you can do:
If you have any questions, don't hesitate to email us at campaigns@fsf.org. Hope to see you in the office and in the streets!
Defective by Design (DbD) is a participatory and grassroots campaign run by the Free Software Foundation (FSF). DbD raises awareness about devices and media encumbered by Digital Restrictions Management (DRM), showing what they really are: Defective by Design. DRM is the practice of placing technological restrictions on digital media, and we're working together to eliminate it as a threat to freedom for computer users, as well as a threat to privacy for readers, viewers, and those making art, media, and more.
Photo by Karen Rustad Tölva, Attribution 2.0 Generic (CC BY 2.0)