Introducing Bob Call, FSF campaigns intern
Hello, free software world! My name is Bob Call and I am a campaigns manager intern this summer at the FSF.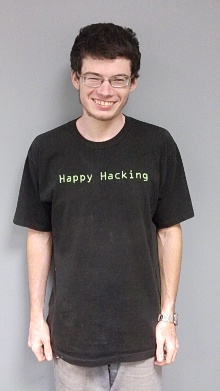 I am an avid free software user and tinkerer. Currently, I attend Middlesex Community College and major in Computer Science. I hope that I can help the free software community and push the world of computing forward — although some would say that I actually push the field of computing backwards because I use a cell phone that is 7 years old and a 10-year-old IBM ThinkPad.
One of my joys in life is modding gadgets and software to make them do things that they were not intended to do. For as long as I can remember, I have enjoyed taking things apart and seeing how and why they worked the way that they do. It was through this hobby that I discovered free software — or rather, when I was first began exploring computers, I ran into a roadblock with proprietary software, as I was unable to view the human-readable source code that would reveal to me how the system works. This prevented me from tinkering with it and changing it to work differently. But, in 2004, I was liberated when I obtained my first GNU/Linux distribution.
Today, I run a completely free distribution (Trisquel), and I work on LibreWRT, a fork of the OpenWRT project. The difference between LibreWRT and OpenWRT is the fact that LibreWRT has no binary blobs or nonfree software. LibreWRT will probably be one of the first embedded GNU/Linux distros to appear on the fully free list.
My experience with software and exploring how things work has led me to realize how very important it is to fight for both individual and community rights to freedom, because there are a lot of people who do not care, or will not until it is too late.
When I am not using outdated technology, working on my screen tan or working on hobby projects, I enjoy long-distance cycling, running and swimming. The longest distance that I have cycled in one sitting is from Nashua, NH to Boston, MA and back — 94 miles, door to door!
More information about the FSF's internship program is at http://www.fsf.org/volunteer/internships.